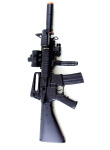 "I came across airsoft [guns] over seven years ago in my business travels," says Saqib Iqbal, owner of Airsoft America. "I felt it was a new and exciting market for the American economy, and never looked back."
Today, Airsoft America is a wholesaler and distributor of airsoft guns, offering a full line of spring-action, electric-operated, green-gas powered guns and rifles. In addition to this very successful product offering, Airsoft also carries pepper spray and stungun security items, particularly the popular brand Dragon Fire. RC Helicopters are also available in two-, three- and four-channel varieties, from brands like Syma and Double Horse.
At present, the Dragon Fire Touch stungun is among the company's hottest sellers. Using a patented new technology, the hot item completely sold out within the first week of its arrival in Airsoft America's inventory. Airsoft is currently taking pre-orders on the Dragon Fire Touch, with a wholesale price tag of $29.95. Suggested retail price is $99.99.
Like many companies these days, Airsoft America has taken quite well to the world of online marketing and wholesaling. So well, in fact, that Iqbal has even been able to reap some of the benefits of cutting-edge social networking technology to maintain a strong presence with customers. Airsoft America encourages customers to follow along on Twitter, become a fan on Facebook, and watch videos at the company's YouTube page. As many have, Iqbal finds it a convenient way to keep customers and clients up to date on the latest company developments and offerings.
Airsoft America's main presence on the Internet, however, continues to be the company's primary website, which is located at www.airsoftamericainc.com. Visiting the site allows customers to stay current with new information on product offerings. Naturally, customers can also order products via the website–products like digital pocket scales, die cast cap guns and many others. All of the most popular products, like the actual airsoft guns, the pepper spray and stunguns can all be found there, as well.
Airsoft America has been a wholesale distributor of items like these for the past nine years. The company prides itself on offering competitive wholesale prices, as well as the largest variety of airsoft guns of the spring, gas, and electric varieties; in hand gun, shot gun and rifle forms, in addition to many accessories. Iqbal claims the company can beat or match any competitor's price, while maintaining high levels of quality and service–taking care of customers and building long term relationships are important.
Minimum orders are $200. In addition to its strong web presence, Airsoft America also has a showroom located in Vernon, California. New walk-in customers must have a sales permit. Customers must follow all local, state and federal laws and regulations. The airsoft guns offered for sale include a blaze orange tip of at least 6mm, which cannot be removed prior to sale, according to federal law. Anyone purchasing the guns must be at least 18 years of age.
Contact:
Airsoft America, Inc.
3187 Bandini Blvd.
Vernon, CA
Ph: 323-780-1229
Website: www.airsoftamericainc.com