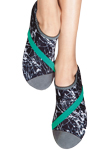 "We have a storyteller's philosophy," says John Mauck of DM Merchandising. "In retail, you have three seconds to get someone's attention. Each item has to have a name, an identity, and go through a creative process to develop a complete campaign. This attention to detail in merchandising is what creates active buyers." DM Merchandising is a supplier of innovative products for the souvenir, gift, apparel, and general merchandise markets.
For the souvenir market, Mauck and his team are excited to introduce FITKICKS®. FITKICKS® are an "active lifestyle shoe," says Mauck. The shoes are made of form-fitting, stretchy material, with a durable sole. "They are perfect for every day," continues Mauck. "They have been very successful in campgrounds, zoos, gift shops, resorts, and water parks. They are really great items for lounging, traveling, and having fun. When people get home, FITKICKS® are easy for running errands and transition easily from indoors to outdoors."
FITKICKS® were featured on the Today show as a top pick for travel gear for their functional, comfortable, and lightweight design. FITKICKS® are available for men, women, and children. DM Merchandising has released four new trendy designs, including cloudburst, primal, and graphite prints, in addition to the original solid-color models. For the colder months, FITKICKS® are available in a slipper-style version, which has a structured heel and a warm plush interior. Floor and counter displays are available to retailers. However, Mauck recommends floor displays whenever possible, to allow for higher sales volumes.
In addition to the FITKICKS®, DM Merchandising offers a wide array of apparel, novelty, gift, jewelry, travel, and lifestyle gear. "We have items to cater to almost every niche," explains Mauch. DM Merchandising produces and stocks large quantities of all their items, to keep costs low for buyers. They also offer 24-hour shipping, year-round inventory, and high margins.