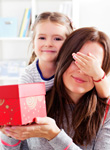 For those of us in retail, November is tremendously busy, but our planning never stops. That means preparing for Mother's Day business. How important is Mother's Day in the overall world of retail? According to the National Retail Federation (NRF), in 2016, consumers spent nearly $21.2 billion on Mothers Day gifts, an average of just over $172 per mom in the U.S.
And just exactly what was on mom's wish list, or what were the top gifts purchased? Jewelry topped the list at over $4.2 billion alone, followed closely by giving the gift of a meal – whether it was a dinner, lunch, or that Mother's day favorite, brunch. But while many moms are content with flowers ($2.4 billion), or gift cards ($2.2 billion), many more are requesting specific gift items that include clothing or consumer electronics ($1.9 billion were spent on each of these categories) or a personal, me-time experience like a day at the spa, at $1.6 billion this year.
What does this tell us when considering our wholesale purchases for Mother's Day 2017? Keep it traditional for the main part, but don't be afraid to try something new. With wholesale gift shows of every size and stripe running from September through February each year, make sure to plan a quick trip to the show or shows closest to your store locale. Shopping the aisles of a regional or national gift show will give you a handle on any new gift or accessory items that will fit in with your store's overall ambiance, and you may pick up a great new supplier, or connect with a supplier you already know well.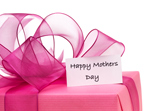 While clothing and accessories are mom favorites, as the world has become more and more tech savvy, so have the moms. If you don't routinely sell electronics in your shop, that shouldn't stop you from considering a test run of tech related gear, like cell phone cases, tablet covers, or small but attractive bags and pouches that can be used to store or stash electronics for the on-the-go mom. More and more apparel lines are offering tech-friendly or tech enabled clothing as well, and with the rise in popularity of the athleisure styles and lines, you're sure to find a few new things to freshen up your offerings. Presenting an eclectic mix of styles and textures all blended within one display area will not only be eye-catching, it is sure to be hit with a wide range of shoppers.
Once you have decided on what new items you'll be ordering for your store, don't be afraid to spread the word. Make sure to get photos of the new items and plan out your social media strategy to maximize the approach to Mother's Day. Plan now for a few email campaigns, or a coupon or limited time offer sale tied to specific new product you're selling, and maybe post a teaser picture in your shop window or online to give current holiday shoppers a taste of what's to come. Happy Selling!