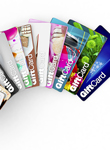 By Timm Walsh
Year after year, gift cards are the most requested gift in America. As we approach the winter holidays, gift cards and egifts will again top shopping lists—but some of shoppers' preferences for buying and redeeming the cards have changed.
To no-one's surprise, annual shopper research by the Retail Gift Card Association (RGCA) of more than 1,000 U.S. consumers found Americans' affinity for gift cards remains high; roughly three quarters of U.S. shoppers plan to buy plastic gift cards this year and one quarter will buy egifts.
Yet the study, which asked consumers about their preferences for giving and redeeming gift cards, also uncovered some new and unique ways shoppers are using gift cards that retailers should consider as they prepare their holiday gift card strategies:
Gift card self-use is an emerging option. More than one in three U.S. shoppers buy gift cards for both gifts and self-use. Six percent of Americans buy gift cards only for self-use – not as gifts. The top reasons for self-use are to qualify for special loyalty deals or discounts (45 percent) and to help stick to a budget (35 percent).
Consumers want localized gift cards. Half of shoppers would be interested in buying gift cards from neighborhood, independent and boutique retailers in their local communities.
Gift card storage is being incorporated into mobile wallets. Nearly half (46 percent) of Americans still prefer to hand cashiers a physical gift card, but 14 percent would now prefer to load all their gift cards into a mobile wallet for easier storage and redemption. The remaining 40 percent of consumers are open to using either option.
Awareness of gift card exchanges is substantial. 40 percent of Americans have heard of gift card exchanges and a quarter of consumers are interested in using one in the future. Not all gift card exchange services are created equal, and consumers should research their options before using one. We have also created tips for doing this so shoppers can use it to educate themselves. This page can be found at: http://www.paymentsjournal.com/Content/Blogs/Industry_Blog/30934/.
American shoppers now buy and redeem gift cards across a variety of retail channels, and are becoming increasingly innovative with how they buy, receive and redeem. Thanks to these new applications and uses for gift cards and egifts, retailers are challenged to meet consumer expectations in order to maintain brand loyalty and sales. Those that can adapt to meet consumer demand and evolving preferences will be able to maximize their gift card program amidst the most lucrative shopping season of the year.