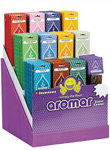 Aromar is owned and operated by industry expert Marcelo Moreno. "Twenty years ago people didn't know what fragrance oils were or how to use them," says Moreno. "Now there is a lot of awareness and a lot of competition. Our products started in specialty stores such as mall kiosks, and have now expanded into everyday retailers by popular demand." In this competitive environment, retailers are looking for the highest quality. "Our quality is top," Moreno continues. In addition to supplying fragrance oils, Aromar offers oil burners, air fresheners, incense, and tea lights.
Aromar recently developed a concentrated air freshener, "that works everywhere," says Moreno. "Because of its high concentration, two sprays lasts for two days," he explains. The made-in-the-USA air fresheners are recommended for bathrooms & cars, anywhere that needs to be rid of smoke or pet odors, and the oils can be used as a means of freshening up air conditioning or heating filters, to mention just a few of their many uses.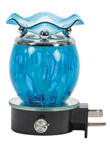 In addition to their newest product, Aromar's oils and incense are also made in the USA. Right now, the "trend is going towards clean smells," says Morano. "Fresh linen, rainforest, and mountain spring are very popular right now. The fruit and flower scents have traditionally always sold well." Aromar rotates products every month and is constantly bringing in new scents. "Oils are a consumable," explains Morano. "So customers will come back again and again to replenish."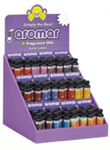 Moreno recommends that retailers participate in their end cap program, which has a 100 percent money-back guarantee. "Our concept works great when its set up the right way, says Moreno. "We provide customers with the merchandising tools for them to set it up in their store, using the existing fixtures," says Moreno. "There is no one doing what we're doing in terms of the look and feel of our packaging," he continues. "Our packaging is more sophisticated and well-designed." Moreno and his team are industry veterans, so they know "what works and what doesn't work," he says, which is why Aromar offers a money-back guarantee for retailers that follow their recommendations. "For many of our customers, our products become the number one selling item in their stores."
For more information on the company and their full product line, please visit www.aromar.com.