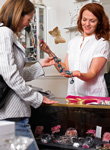 Grand Strand Gift & Resort Merchandise Show, from Urban Expositions, is gearing up for their annual event this December 4 – 7th at the Myrtle Beach Convention Center. Known as "The Big Kahuna," this show is a must-attend event for retailers in the coastal souvenir and resort business to meet business owners and plan for the spring and summer resort seasons.
Retailers come to Urban's Myrtle Beach show to see products that are new, fresh, and trending from top selling brands, local designers, and up-and-coming artists. Buyers can find a versatile selection of merchandise tailored to the coastal souvenir business, including beach items, resort wear, t-shirts, giftware, logo products, fashion accessories, shell items, coastal and nautical themed products, toys, games, and more. For 2016, "The Big Kahuna" has dozens of new exhibitors, including The Incredible Sunvisor, Tangerine Temple, Fin Fun Mermaid, and more. Donna Guess, vice president of souvenir and resort for Urban Expositions says, "Coastal and resort retailers know they will find the best selection of established lines, best-sellers and breaking new product introductions all under one roof, all while enjoying networking in a casual, relaxed show setting."
The Grand Strand Gift & Resort Merchandise Show is known for its laid back and enjoyable environment. Dates are strategically timed for seasonally low accommodation rates at nearby hotels. The convention center is within walking distance of Broadway at the Beach and plenty of other Myrtle Beach attractions.
This off-season show is an excellent networking opportunity. In addition to registering in advance, scoping out the exhibitor list, and booking appointments with your top vendors, Urban Expositions recommends utilizing social media. Stay up to date with what is happening before, during, and after the show with #GSGIFTSHOW. Urban Expositions social media manager Alison Walkley shares the following tips:
1. Search for exhibitors you know you want to see on Facebook prior to the show. You never know if they might be offering a show special you can take advantage of via social media.
2. Utilize the show hashtag to find key exhibitors you'll want to visit on-site. #GSGiftShow
3. Follow the show on Facebook and Twitter so you don't miss out on any seminars, giveaways or must-see exhibitors.
4. Like, comment and share show posts and exhibitor posts pre-show, at the show and post-show. Generating engagement will lead to more awareness of your own business pages.
5. Take and share photos of your show experience. Your own followers will want to see how much fun you're having.
For more information, visit www.GrandStrandGiftShow.com.