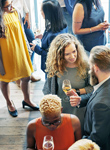 Just because the doors close doesn't mean the party is over. Retailers are using their brick and mortar stores to host after-hours events. It is a way for retailers to drive sales, attract new customers, and gain loyalty from already established customers. There are different and creative events you can host depending on your audience, but here are some that are guaranteed to be a hit:
Happy Hour
Everyone loves a good drink. Combine that with a unique shopping experience, and you will have people lining up to take part in your event. Providing a few signature drinks that are named after your store and the products you provide are a great way to strengthen your brand. Selling tickets will help to ensure everyone is 21+ and create an air of exclusivity, but also be sure to check out your local town or city regulations. Millennials are especially prone to the fear of missing out due to friends constantly posting on social media, thus selling tickets will make people want to buy them fast before it is too late. Using these tactics will increase sales and customers.
Learning Experiences
People are curious by nature and always looking to learn new things. There are various types of classes you can teach at your store. Athletic, athleisure, and sport brick and mortars can use their space to teach workout or healthy cooking classes that their customers will appreciate. Another common class any retailer can offer is a paint and sip. Have people bring their own wine and provide glasses with your logo on them as well as painting supplies and instruction. These are currently very popular and sure to make customers fall in love with your store. There are many crafts that can easily be taught after-hours, for example, if your store offers home goods, do a candle making class. If you are a shoe store provide white canvas shoes and materials for shoppers to decorate them. The cost for the supplies and classes can be included in the entry fee for the event, and customers will leave with a new product they love, and a new store where they will continue to shop.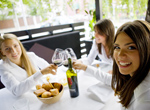 Exhibitions
For more reserved customers, having a speaker, demonstration, or exhibit is another idea. If your store carries a specific product, have a spokesperson come in and talk about the product and their company as a whole. Have speakers from your own team discuss topics they are passionate about and are relevant to your business. You can also have local artists, or authors display their work in your space for an event. A store does not have to remain just that, but can transform into a lecture hall, demonstration room, or art gallery after-hours.
Group Events
Hosting an event all on your own can be overwhelming. Retailers can reach out to other small business owners in the area to plan a group celebration. This group event could be any of the previously mentioned, where each store provides their own service and attendees hop from one location to another, or all the businesses can come together to host one event, such as a block party or festival. There is plenty of room for creativity when it comes to after-hours events, and getting more retailers involved means more ideas, more customers, and more fun!
There are many ways to elevate your brick and mortar beyond a shopping destination. When hosting a special occasion, in order to drive the highest sales make sure you promote it and follow up with e-mails to guests and posting pictures on your website and all social media. Having after-hours events brings in customers, connections, and sales. So what are you waiting for? Get planning!