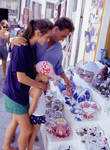 The quintessential American road trip has inspired travelers for over a century. From when Scott and Zelda Fitzgerald said, "Let's go" to Montgomery, Alabama from their home in Westport, Connecticut in 1920 as detailed in The Cruise of the Rolling Junk, Americans have been enamored with spontaneous car trips. In its infancy, the American road trip was a reality solely for the upper class. At the turn of the century, only the wealthy could afford a car. Souvenirs served as proof and bragging rights for their travels. Before gift stores and souvenir shops, travelers brought home artwork and luxury items. Silver spoons etched with George Washington's face and images of the Chicago World's Fair sparked the nationwide frenzy for collecting sterling silver souvenir spoons, which lasted from the 1890s until the time of World War I. The silver spoons marked the beginning of America's fascination with manufactured souvenirs.
Until this point and the advent of the Preservation Movement in the 1920s, Americans were creating their own souvenirs. Early tourists literally carved out their own pieces of history, chiseling fragments from Plymouth Rock and clipping slices of White House curtains for mementos to bring home. Illicit souvenir gathering was a rampant pastime in the United States. William Bird, the author of Souvenir Nation, told Smithsonian, "If the past could be touched," he says, "it could be chipped away, excavated, carted off and whittled into pocket-size bits, giving form to persons, places, and events that lingered forever in the act of possession."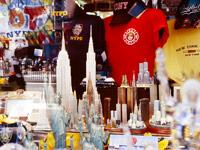 On June 29, 1956, President Eisenhower signed the Federal Aid Highway Act of 1956. This act greatly expanded and improved the interstate highway system, making road travel more efficient and much safer. By this point, the economy was booming and owning a car was normal for the average American household. By 1960 over 75 percent of households owned at least one car. Around the same time, Jack Kerouac published On the Road, a novel based off of Kerouac's real life road travels with his friends. This iconic novel and the rest of the Beat Generation valued freedom, exploration, and a bohemian lifestyle that was made exceptionally possible through the expansion of interstate highways and accessibility of car travel. It wasn't just the beatniks who had a fascination with road travel. Men home from World War II and people disenchanted with city life saw roads trips as a symbol of freedom, adventure, and a rite of passage.
More and more, Americans were able to say, "Let's go" and simply leave on an unplanned journey. In addition to beatniks and war veterans, middle-class families were hitting the open roads. Along the way, tourists stopped at zoos, aquariums, museums, and landmarks. Businesses catered to the growing influx of travelers. Roadside diners and motels were in their heyday. Americans were on the move and many travelers were documenting their journeys through postcards. These trending souvenirs were perfect at the time as a means of communications, a travel souvenir, and to add to personal collections. For small business owners and tourist attractions, postcards doubled as an easy impulse sale and as a powerful means of advertising.
By the 1960s, air travel was more popular and more commonplace. Americans were flying the friendly skies and a new age of tourism and souvenir buying was born. Hawaii, Las Vegas, amusement parks, the Poconos in Pennsylvania, the Catskills in New York, and Disney were all top destinations for American vacationers. At the time, postcards still reigned supreme. Pennant flags, lighters, and serving trays name-dropped with destinations and landscapes were also hot sellers for gift shops, souvenir stores, and mom and pop hotels.
In 1977, the I ♥ NY slogan was born, causing explosive sales for souvenir retailers in the area for t-shirts, mugs, stickers, key chains, and anything else the logo could be printed on from 1977 well into the 1990s. The successful New York tourism campaign spurred copycats nationwide. Cities, zoos, parks, and destinations around the country profited from the popularity of simplified name-dropping on mass-market goods. Just as travel had become accessible and affordable to every family, souvenirs were no longer a symbol for the wealthy, but an attainable memento for all travelers. The mass-market souvenirs we know today were born.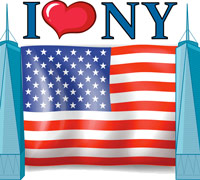 For decades, mass-market souvenirs were the industry standard. Travelers collected t-shirts, mugs, key chains, and Christmas ornaments from every trip. However, in the age of Amazon and eBay, where anything can be purchased at any time, mass produced souvenirs began to lose their luster. On top of e-commerce, the height of Instagram and social media allow travels to be documented and shared instantaneously. These mass-market souvenirs don't carry the same weight they once did. In a world of selfies, who is buying souvenirs?
As the concept of the modern souvenir continues to evolve, we return to its original definition: proof and memory of travels. The original American souvenirs were chunks of Plymouth Rock, snippets of White House curtains, items that had a direct attachment to the place visited. As a nation, we won't digress to bootleg souvenir hunting, but there is an increasing demand for meaningful souvenirs. Selfies offer immortalized moments and social media bragging rights, but travelers still want something tangible to bring home. Sometimes that is still a mass market t-shirt, but more commonly the memento is something specific to the area or attraction. Handmade goods, products that are made in the USA, and handcrafted designs have become increasingly popular over the past ten years. Jane Riley, museum store manager and visitor services supervisor for The Manassas Museum System and a member of the Museum Store Association says the souvenir industry has changed in the ten or twenty years in the sense that customers want "fewer collectibles. People are becoming more minimalistic. They want useful things — not just items to dust."
To appeal to families and the modern traveler, Riley offers interactive opportunities at her gift store. "I have authors come a couple of times a month to discuss their latest books. This really boosts book sales and brings customers into the store. The book talks are free." Overall, visitors are looking for merchandise that is unique to your attraction, instead of something that could be purchased on Amazon. "My best department is custom. So, develop products that relate to your museum and area. Find your niche," says Riley. "I believe the differences in souvenir stores from regular retail are the custom merchandise. Our staff can educate the customer on items and give them a little history or tell how they relate to the museum's collection. We also do our best to sell Virginia products and merchandise that is made in the USA."
Riley also recommends embracing selfie culture instead of trying to fight it. "Our exhibits usually have an area with something for the kids to do, like trying on hats, clothing or accessories. Then the kids and parents take pictures and post online." Providing designated opportunities for photos including hashtags for social media will help control your online presence and promote your business.
In 2017, the road trip remains the most popular vacation for American families, ahead of other equally accessible options like international travel and cruises. Despite rising gas prices, the number of families planning on taking a road trip has actually increased since 2016. Americans are still saying, "Let's go," to the freedom of the open roads and the attractions they find along the way. According to First Research, the US gift, novelty, and souvenir store industry includes about 23,000 stores with growing combined annual revenue of about $19 billion. Families are still going on road trips, and people are still purchasing souvenirs. But, like every other aspect of our retail industry, how and what they buy is changing.