By Rachel Summers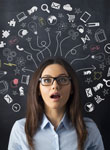 Social media is such a vital part of business nowadays that it cannot be ignored. If harnessed in the right way, you can take back full control over your business's social media profiles to be used as an advantage and a tool for success. Today, we'll explore five steps you can take immediately to draw in more potential leads, taking them to your website where you'll simply have to convert them using your tried and tested methods, naturally and dramatically boosting your sales.
Build Your Following
The first thing you need to do to is to start building your social media following. The more followers your social media profiles have, the more leads you will have and the higher the level of credibility your profiles will have, naturally boosting your follower count and so on and so forth. Always remember that there is no time like the present. If you haven't already got a social media profile, make one right now and start sharing your content.
Post Regularly
If you don't post regularly, your followers will quickly lose interest in your profile, and they will unfollow. In fact, according to Entrepreneur statistics, this can happen as quickly as three days. As an authoritative page in your industry you want to be posting every day. To really ingrain your business in the minds of your users, you want to be on their feeds every day, embedding your brand and turning yourself into a household name.
Additionally, you'll want to vary your posts. Don't post the same kind of content day in, day out. Your users will quickly become bored. Instead, post images and share videos. You could even share other user's posts to help create a community. Another fun way to portray specific information is using a slideshow, like the ones found on Slideshare.
Maintain Balance
Finally, the most important part of creating the content for your social media profiles to boost your sales means finding balance in your posts. If you're continuously uploading post after post simply trying to sell your products or services, nobody is going to want to read your content. Instead, aim for an 80/20 balance.
This means your content should be providing your users and readers with 80 percent valuable content and 20 percent promotional. When you are starting out and trying to increase your follower count, you may even want these figures to be 95 percent valuable and 5 percent promotion, to draw in those readers. As your follower count goes up, start to subtly introduce additional promotional content that leads people to your website. You will start to see your sales figures increase, boosting the success of your business.
However, don't get carried away. Always remember never to exceed the 80/20 balance. Otherwise, you'll be driving users and followers away from your page.
Be the Leading Figure
Think of it this way, if one company is the leader in an industry, posting all the relevant content and giving users everything they need in one convenient place, why will they need to go anywhere else. No matter what industry you are in, you need to become this leading figure. Brainstorm ways you can cover every single aspect of your industry, leaving no stone unturned.
Dream Big
If you don't aim big, you won't become big. Start small, but don't limit yourself. There are over 2.3 billion active social media users in the world. There is no reason why you can't build a large following. Start by aiming for hundred followers, then a thousand, then two thousand, ten thousand and so on. Social media is a huge network and you never know who your next customers may be.