by Jonathan Wu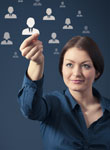 Hiring for an e-commerce company is no small feat. The success of your business is highly dependent on the collective efforts of your team. However, every decision point in hiring is also an opportunity to leverage new technology to automate part of your operations. That's why it's essential to think strategically before diving into the applicant pool. Jonathan Wu shares his experience of successfully hiring while COO at Touch of Modern, a leading brand in men's commerce.
Even before Touch of Modern launched publicly, we knew we had discovered something that was going to be big: 'fast merchandising.' A few hours before we sent our first email newsletter, someone had already discovered the website was live and made a purchase. In less than four years since our founding, we scaled to over $100 million in sales with only $12 million in equity capital.
When building your first retail company, your natural inclination should be to spend your time on what is core to the business — what you do best that makes it special. If you are trying to build a lasting company, the first thing you need to do is think about how to free up your time as efficiently as possible.
At Touch of Modern, I was initially responsible for sourcing new merchandise, account coordination, inbound shipping, recruiting, human resources, payroll, accounting, financial planning, and analysis. Later, as my role evolved, I also oversaw fulfillment and customer service. With a new company, especially one that is growing fast, unexpected challenges come up daily, and you will need to deal with them while still keeping the ship afloat. Your role initially is to hire to replace yourself out of your day-to-day responsibilities, so that you can leverage your time thinking about how to scale the business.
Once we publicly launched, I spent my time focused on building out our buying team with one of my co-founders Jerry Hum. This brought fresh perspectives to one of our core departments while simultaneously freeing up my time. As a result, our merchandising constantly evolved over the years as new buyers experimented with trending categories.
You will know that it's time to hire to replace yourself when a task becomes so time-consuming that it could be better spent on other parts of the business. Before hiring for a new role, it's important to first go through a thought exercise to see whether you should hire new talent or consider leveraging technology to automate the task. When determining which roles to automate, take a look at the tasks that are taking up a significant amount of your time as well as the automation solutions that are available.
I was our only recruiter until our team reached 50, and I handled accounting and finance until our team passed 100. Because accounting and finance consumed so much of my time and has the potential risk of human error, I knew an automized solution would be worth the investment. As a result, Touch of Modern deployed Tipalti's accounts payable automation solution, enabling us to distribute 20,000+ supplier payments per year around the world, without a single headcount dedicated to accounts payable.
Simply put: scaling strategically by leveraging talent combined with technology will help free up your time and energy to grow your business. By taking the time to understand your true business needs and invest in the appropriate automation solutions early, you will be better equipped to handle the unexpected challenges that arise when growing quickly.