By Rafael Lourenco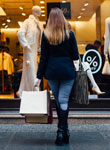 For e-commerce retailers, it's never too soon to start preparing for Black Friday and Cyber Monday sales. The rewards for careful planning can be huge: U.S. online retail sales topped $1 billion nearly every day of the 2016 holiday sales season. This year, the share of e-commerce sales during the holidays is expected to rise from 10.6 percent to 12 percent. Now is the time to get your online store ready to help busy shoppers find what they want, protect your business against holiday fraud spikes, and deliver service that brings customers back after the holidays are over.
Optimize for Mobile
For the 2016 holiday shopping season, mobile accounted for half of online retailers' traffic and nearly one-third of their sales. At least one report on the upcoming holiday predicts 35 percent of this year's online retail sales will come from mobile devices. Each page in your store should load quickly. A 2016 study found that more than half of mobile users would leave a site that takes longer than three seconds to load. Your category and product menus should be easy to navigate on a small screen, and your mobile checkout process should be easy and secure to reduce cart abandonment.
Clarify Shipping and Return Policies
Consumers like to know up front what shipping and returns will cost them. Free shipping is practically a must-have; more than half of consumers say it's important to them. Now is the time to make sure your shipping and returns policies are up to date, easy to understand, and readily visible on your site.
This is also the time to carefully review your carriers' cutoff dates for delivery by Christmas Eve and Christmas Day. Be sure to include that information on each page as the deadlines draw near so your customers know how much time they have to get free shipping or to make the cutoff for rush shipping on last-minute gifts. If you only offer one or two shipping options, consider expanding your shipping menu. Providing other shipping speeds from your current carriers or even adding new carriers gives your customers more leeway in where and how purchases are delivered.
Shipping with package tracking may cost a bit more up front but it can save you from needless customer service headaches. Shoppers expect to be able to track their purchases from warehouse to delivery. Also, delivery records from your shipper can provide proof against false item-not-delivered chargeback requests.
Improve Transaction Security
Fraud attempts spike during the holiday season; they rose by 31 percent during the 2016 holidays. Fraudsters especially like to order items with overnight or rush shipping – but so do harried customers trying to tick purchases off their lists at the last minute. Plan now to find the right processes for screening out fraud without delaying legitimate rush orders. Online retailers actually lose more money to false declines than they do to completed fraud, and many shoppers who are declined by mistake will never shop with that seller again.
Step Up Your Customer Service
Plan your gift-wrap options, pricing, and processes now to keep customers happy. Make sure you have the customer service resources running and ready to answer questions during sales peaks and the resources review flagged transactions. This is also a good time to clarify your customer service hours and channels and include that information on each page of your site. You can also help your holiday customers complete their shopping by offering a wish list tool in your store and by following up abandoned carts with email reminders and time-limited special offers.
Preparing your online store for the holidays requires diligence and quite a bit of work. The potential rewards for doing it right include more holiday sales, less holiday fraud, stronger customer relationships, and continued sales throughout the year.