By Jon VanZile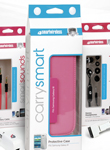 If you are looking to increase sales of non-food products in your convenience store or small shop, Tyler Smith, owner of DSD Express, has a simple piece of advice: "Displays are key. You have got to have the right displays and presentation of merchandise." DSD Express, a veteran-owned business, was founded in 2012 as a wholesale provider of non-food goods to C-stores, gas stations, truck stops, and other high-foot-traffic retailers. The company's product line includes knives, cell phone accessories, stickers and decals, and vaporizer accessories.
DSD's main customer focus is the eastern half of the United States, with product reps throughout the region to work directly with customers; products can also be shipped to the West Coast. DSD distinguishes itself through superior support and customer service, Smith says. The company's representatives are happy to work with a customer to help them design the most effective point-of-sale displays to move product. The majority of sales in this environment are impulse buys, Smith notes, so careful attention must be paid to merchandising and product selection.

Currently, the biggest sellers for DSD include pocketknives and cell phone accessories. "People collect knives," he says. "It is not uncommon for someone to buy three or four or more small knives, especially if they see something they really like. You have got to have the right products displayed to make them pick it up."
This also means regularly rotating stock, according to Smith. "You have got to keep things fresh," he says. "You have got to rotate your stock. Shelf life for the average product is about 30 to 45 days, and then you have got to rotate it out and replace it with something new. The typical customer in this type of store is the same person who comes in every day. You want to show them something different."
Becoming a Customer
DSD products can be bought over the phone or through the company's website. So far, word of DSD has spread through word-of-mouth, as satisfied customers share recommendations. Wholesale customers can open an account and establish a credit line after the first order. From then on, if you pay within the terms, shipping is free. If you prepay, DSD will also waive the freight charges. The minimum order is 50 dollars.