By Tobi Schneidler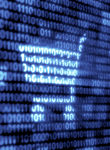 Years ago, the only time you would see humans and machines communicating with each other were in science fiction movies. Minority Report is a classic example. Tom Cruise walks into The Gap and he is immediately greeted by a digital screen and receives a personalized product recommendation. That exact concept is slowly becoming a reality for retailers and shoppers alike. Today, the Internet of Things (IoT) is seamlessly connecting us to an ever-growing network of physical objects like health monitors, thermostats, and even cars. We are now able to access, control and interact with these objects – powered by embedded sensors and computers – through our mobile devices, transforming the way we live and work.
According to Gartner, a technology and research company, there will be nearly 26 billion connected devices by 2020, with projected revenues exceeding $300 billion. We are already seeing the IoT make its way into the workplace, but when you look specifically at retail, there are few industries more poised to capitalize on its benefits. The lifeblood of retail itself centers around the consumer, and with the IoT, there is an enormous opportunity for retailers to reinvent themselves.
Ask any retailer what its primary goals are and the answer will likely revolve around improving operational efficiencies, customer experience, as well as identifying new growth opportunities. The IoT can open these doors for retailers willing to make the jump – here are key areas where it can have the greatest impact on business:
Smart Stock, Sharp Logistics.
By pulling data from sensors on store shelves to sensors in the warehouse, retailers can accurately monitor and manage inventory, ensuring products are restocked and available to meet consumer demand. GPS and location-based technologies can also sharpen shipping logistics. Innovation here gets those products on the shelves and to the consumer faster by recommending new delivery routes, suggested speeds, and even notifying drivers of accidents or traffic stops to bypass.
Next Generation Vending Machines.
Forget crumpled cash and pockets full of change. Smart vending machines use the power of big data, the cloud, mobile and analytics to reinvent consumers' purchase behavior. By enabling users to buy items from their smartphone and associated apps, vending operators can use this data to make specific promotions and recommendations based off of purchase history and user preferences. Additionally, sensors embedded throughout the machine provide insights into the inventory levels, temperatures and operating functions, resulting in improved operational efficiencies and greater profits.
Connected Carts.
Unlike their predecessors, smart carts can streamline the shopping process and eliminate the pain points many shoppers face today. From the moment a shopper scans their store loyalty card to obtain a smart cart, they are presented with personalized recommendations and sales while they shop. To combat trouble finding specific products, location-based sensors can help shoppers navigate through the store to find exactly what they are looking for, saving shoppers time. Additionally, customers can track how much they are spending by scanning products as they are placing them into their carts. This is the same process that allows shoppers to check out directly from their carts, eliminating the need to wait in long lines.
In-Store Intelligence.
The IoT empowers retailers to make intelligent, real-time decisions, by leveraging data insights generated by consumers and their smartphones to improve the in-store, customer experience. Companies like Swarm enable retailers to leverage data from social media, mobile app engagement, as well as location-based sensors to monitor traffic and activity, understanding exactly what is going on in-store at all times. This allows for more insightful decision-making, including resource and staff allocation, targeted promotions, ads, etc. Additionally, retailers can go back and analyze this data to understand shopper behavior and identify patterns to improve customer service.