Eagle Products has been a trusted supplier of screen printing and embroidered apparel to the souvenir, gift, and resort markets for over 50 years. Located in Kansas City, Eagle Products proudly serves retailers from coast to coast including zoos, national parks, theme parks, airport concessioners, and many others.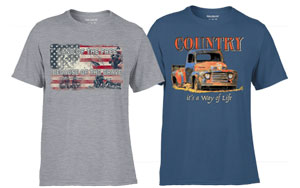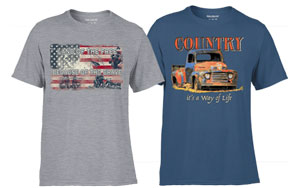 Eagle Products has a vast multitude of pre-printed designs in stock and ready to ship at great prices. A popular option for gift shops, souvenir stores, and boutiques is to add a name-drop to the pre-printed styles to get a customized look for a low price. "These are high-color prints with nice designs on high-quality garments," says Dave Rockey of Eagle Products.
Preprinted styles include popular nature, animal, and forest themes, patriotic designs, humorous prints, Southwest designs, children's shirts, and more. Overall, Eagle Products "has more designs than you can shake a stick at," says Dave. There's a design perfectly suited for every retailer. Best of all, adding a name-drop is free for qualified wholesale customers.
If you're looking for something truly unique, Eagle Products has an in-house custom design studio, so retailers can get 100% individualized t-shirt designs at competitive pricing. "There's a lot involved in custom printing," says Dave. But, "once the art is approved retailers can expect a 5-8 day turn around." Finding quality custom products can be a huge challenge. Eagle Products offers nearly unlimited possibilities at low prices with speedy turnaround.
Call 800-821-2615 or visit www.eagletshirts.com today to place your order. You can also visit Dave and Eagle Products in person at several upcoming trade shows including Las Vegas Souvenir & Gift Show, Smoky Mountain Gift Show, Ocean City Resort Gift Expo, and more.
Eagle Products
87 Shawnee Ave, Kansas City, KS 66105
Tel.: 800-821-2615
Website: www.eagletshirts.com