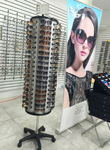 Eason Eyewear is a newly developed eyewear manufacturing company based out of New York City. Although the brand was recently created in 2014, Albert Ye, owner of Eason Eyewear, has over thirty years of experience in the eyewear manufacturing business. His company offers wholesale sunglasses, reading glasses, frames, and fashion accessories. "We offer a great selection of sunglasses with excellent quality, trendy designs, and unbeatable prices," says Ye. "Eason Eyewear is one of the top distributors of sunglasses in the United States."
When it comes to their sunglass collection, Eason Eyewear has something for everyone. "Our merchandise consists of fashion sunglasses, sports sunglasses, kids sunglasses, reading glasses, polarized lens glasses, sunglass displays, and other accessories," continues Ye. "All of our sunglasses are made of polycarbonate lenses which are impact resistant and have UV400 protection, which blocks 100% of UVA and UVB rays." Ye explains that his products sell very well in a variety of retail settings, including boutique shops, gift shops, convenience stores, specialty stores, fairs and festival pop-up booths, dollar stores, and online stores.
"With over thirty years of experience, we have the expertise to offer a variety of services and products to fulfill your needs," says Ye. Their specialties include custom design services with their innovative in-house staff, special orders, and private label services. Since Eason Eyewear manufactures their own products, they always have large quantities of sunglasses and accessories in stock. Having their own manufacturers also means Ye and his team are able to release new styles and products every month, which are constantly being updated on their website.
Orders can be placed online, over the phone, or in person with either cash or credit. There are no order minimums. Ye encourages retailers near their Maspeth, NY, location to stop by to select products in person. Wholesale customers are eligible for certain bulk discounts. Ye also has professional product photos available for retailers who need them for advertising and displays in their stores.
Ye and his team strive to provide standout customer service. "Unlike many wholesalers, we do offer a return policy. Our staff always responds to customer's concerns quickly, and tries to resolve any problems right away," he explains. "We value our customers. At Eason Eyewear, we offer not only top products, but also superior customer service." For more information, visit their certified secure website www.EasonEyewear.com.