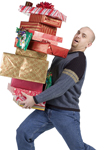 The gift industry is always changing. As retailers, we need to keep up. Keeping up with trends and consumer demands is more important now than ever as we head into Holiday 2017. Last year holiday sales totaled $658.3 billion according to the National Retail Federation. On average, holiday sales increase conservatively between three and four percent each year. That means in 2017 we can expect sales to reach at least $678 billion. Independent Retailer has forecast some of this year's popular categories and consumer trends so retailers can make the most out of this lucrative season.
Familiar Faces
The force is strong with this one. 2017 is a big year for licensed products, and we expect this trend to continue throughout the holiday season. Hollywood's obsession with film franchises and superhero blockbusters is bolstering box office sales and bringing retail along for the ride. In 2016 global retail sales of licensed merchandise rose 4.4 percent to $262.9 billion. With Star Wars: The Last Jedi® coming to theaters December 15th, we expect a major surge in demand for Star Wars® licensed toys and products this holiday season. Wonder Woman® and Pokémon® will also remain strong.
Health Minded
The health and wellness market is expected to be the next trillion-dollar industry. According to Bain, the health and personal care retail category grew 6.7 percent holiday 2016, more than any other category including clothing and general merchandise. When it comes to retail, lifestyle, and pop culture, wellness is the "new black." Beauty and anti-aging products make up a large percentage of this market, followed by physical and mental fitness, nutrition, and alternative medicine. Organic beauty product sales alone are expected to see a 17 percent increase in sales between 2013 and 2018. The consumerization of health means a wider and stronger audience is demanding natural ingredients and simple-solution products.
Giving Back
'Tis the season. Fair trade is a social movement that promotes better trading conditions and sustainability for makers and producers in developing countries. The movement has gained a lot of attention and momentum in the last few years. In 2014 the Fair Trade Certified apparel and home goods program alone grew by 358 percent and has continued to grow every year since. As an independent retailer reselling fair trade products, you are helping to support other small businesses.
In addition to helping the small business cause, fair trade products are also in high demand. Younger generations, particularly Generation Z prioritize companies that support social causes. Once they learn a company is socially responsible, members of Generation Z are 85 percent more likely to trust the brand, 84 percent more likely to purchase the products, and 82 percent will recommend that company to friends and family.
Fair trade products are also beneficial to your business during this gift-giving season because they give you an edge over mass-market retailers. Fair trade products are usually handmade, so each item is unique. It's a way to offer a different kind of product from competitors. Each item has a story behind it and shows customers your commitment to giving back.
Practical Tech
Fun, affordable, and practical gadgets are always a home-run for stocking stuffer season. Holiday 2017 will be no different for these grown-up toys. Practical accessories like ports, Bluetooth keyboards, portable batteries, fun device cases, car mounts, and more will all continue to sell well this season. Tech gadgets and accessories also have a much wider audience than almost any other gift category. A broad audience means there is little guesswork involved with this trend. When shopping for your store, incorporate a mix of traditional items like chargers and phone cases with unique items like keychain USBs, camera lenses, and travel accessories.