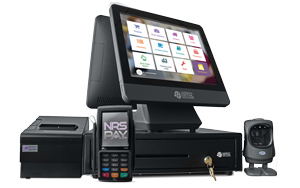 National Retail Solutions (NRS) just made their POS System better than ever, with more features to make your store run smoothly. This industry-leading Point of Sale Bundle comes with everything you need to offer customers a quick and seamless checkout experience, including robust hardware and state-of-the-art software, with unique integration with Boss Revolution® pinless recharge, the BR Club™ customer loyalty program and credit card processing.
Transaction Surveillance Monitoring
This new and exciting feature integrates each store's surveillance system with NRS' Point of Sale System so that business owners can see transaction information in real-time. Managers will be able to see footage of the cashier as it corresponds with each transaction, so they can monitor which products were purchased and how much change the cashier is handing back to the customer. This new feature is designed to help reduce customer — and employee — theft, which is a common concern for retail business owners.
NRS PAY Credit Card Processing
NRS PAY credit card processing integrates seamlessly with NRS' POS system and is quickly gaining popularity as an honest company that prides itself on transparency. With NRS PAY, retailers can accept all major payment forms, including mobile and EBT. There is no long term contract required, no early termination fee or any other hidden fees, with a low rate of just 2.49% + 10¢ per transaction.
As a combined point of sale and merchant services provider, NRS will handle every aspect of payment processing at checkout, so you can focus on your business. They will take care of the services, partnerships, software and hardware retailers need to accept payments from customers, making it a truly easy checkout experience for both the business and the customer. NRS PAY is uniquely designed to interface with the NRS POS system, but NRS POS retailers can work with other credit card companies if they choose, and even non-POS businesses can sign up for NRS PAY. Working with NRS PAY will give retailers a one-stop-shop opportunity with one simple customer support line for both systems.
Tobacco Sales Program
Some merchants can make up to 15 cents per carton sold with the NRS tobacco rebates program. Retailers can participate in this POS tobacco scan data program, without any required long-term contract, to give customers discounts; this will organically increase store revenue and foot traffic. The NRS POS System currently participates in this program with Altria.
Boss Revolution® Pinless Recharge
National Retail Solutions is a sister company with Boss Revolution® under the IDT Corporation umbrella. The POS offers merchants a single-touch button for recharging calling minutes. These are just some of the many new and exciting features that NRS has to offer with their Point of Sale ecosystem. For more information, you can visit their website at nrsplus.com.