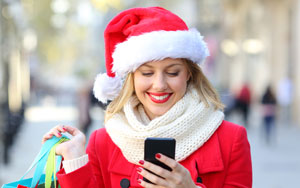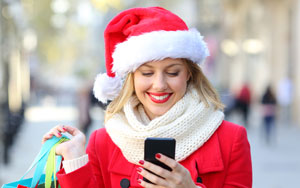 With the holidays right around the corner, you're probably busy preparing seasonal promotions and stocking up on your most popular items. 2018 holiday sales grew by 2.8% over the previous year, and the National Retail Federation forecasts an even larger jump in 2019.
For consumers, each year brings a search for the new must-have toy for kids, the latest smartphone gadget every teen is clamoring for, or the perfect present for a loved one. While you're working hard to capitalize on the increased demand, competition will be at an all-time high as small businesses of all kinds step up their marketing tactics, so it's important to create a lasting impression this holiday season.
How will you provide a top-notch customer experience for anyone shopping in-store or calling with questions about seasonal events and hard-to-find gifts? Here are three tips for maximizing your efforts on-site, online and when helping customers on the phone.
Engage Your Customers in a Welcoming Environment
Some shoppers will be visiting your store with a specific item in mind, while others are "just looking." Making customers feel comfortable in your space can be the first step in turning browsing into buying. Seasonal sweets like Christmas cookies and hot cocoa are sure to bring people in from the cold, and 84% of U.S. shoppers say music improves their mood. Try this Spotify playlist to get your customers in the holiday spirit.
Polite and helpful staff goes a long way in making sure your customers feel valued. Teaching your employees how to engage shoppers in-person and answer commonly asked questions over the phone could mean the difference between making a sale or not. Prepare for hectic holiday rushes by creating shift notes to inform employees about upcoming sales and new products and be sure to keep a copy by the register and the phone so they can easily reference it when speaking to customers.
Make Your Online Presence Part of Your Holiday Plan
Consumers are searching online for "local" + "near me" a staggering 350 times more than they were 10 years ago, making your digital presence a key factor in your success this holiday shopping season. In their searches, more than half of consumers have used Google My Business to find a business's address or phone number. Once you've verified your business on Google My Business, your customers are only a click away from reaching you by phone or finding driving directions.
Share your store's holiday spirit with regular social media posts featuring details about any new or restocked popular items, sale information and seasonal promotions. Be sure to use photos of new items, fun displays and even happy employees, since social media posts containing images receive 2.3 times more engagement than those without.
Give Yourself and Your Customers the Gift of Advanced Phone Tech
Because many consumers prefer to call local businesses, you are likely to see an increase in call volume during the holidays, so you'll definitely want enough elves on-hand to answer incoming calls. Tracking incoming call volume and peak periods will help with employee staffing.
When the holiday rush hits, you might be lucky if your employees have time to answer the phone or make notes of the 10 separate people who have called about a specific product that day. Modern telephone tech often includes recording and transcription features that allow you to listen to audio and review transcripts from both answered and unanswered calls. That means you can find out which products are being called about most often so you can stock your shelves based on demand. You can also use that information to inform your marketing strategy by posting on social media about frequently called about items or using signage to let people know an in-demand gift is back in stock.
Whether you carry hand-made gifts from local artists or a unique selection of children's toys, engaging customers in-store, stepping up your online presence and answering calls with intelligence helps you offer better customer service, make more-informed business decisions and ultimately increase holiday sales.
About CallJoy
Bob Summers is general manager of CallJoy, an easy-to-use cloud-based phone agent that enables small business owners to delight customers. Developed by a team within Area 120, Google's internal incubator for experimental ideas, CallJoy provides small business owners with an intuitive and customizable platform that helps save time, improve customer service and increase revenues. With CallJoy, small businesses such as retailers, restaurants, professional services firms and more, can transform their phone into an engine for growth.