By IvyLee Rosario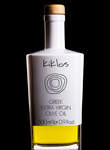 Extra virgin olive oil is a staple ingredient for many households, and if you are a retailer who carries this product you know how important it can be to your customers. If you are searching for the best quality oil to sell in your store, Kiklos Olive Oil is guaranteed to bring in customers. Made from Koroneiki olives, gathered from one specific region in Greece and pressed immediately after harvest, this ancient process creates oil that actually tastes like olives, something that is hard to find in the U.S.
"A lot of olive oils are blends of different types of olives, sometimes mixed with a lesser grade or other types of oils," explains Jonathan Bassett, Co-Founder of Kiklos. "When I go to visit my family in Greece, this type of distinct olive oil is a must-have in their food. Unfortunately coming back to the states, this specific taste and aroma is something that is very hard to find."
To satisfy the up and coming Mediterranean diet demand, Bassett decided to bring Greek extra virgin olive oil to the States. Whether you run a small gourmet grocery shop, gift store, health food shop, wine and cheese store, or a local shop looking to branch out into food products and ingredients, Kiklos will fit perfectly with your product selection.
"We offer demonstrations to retailers that are interested in learning more about our olive oil and we make sure to explain the product to them, answer their questions and talk to them about how their store can benefit from carrying Kiklos," says Bassett. "This gives us the opportunity to educate retailers and consumers on why it is so different, and why this is what olive oil is supposed to taste like. We have even done taste comparisons, and people are taken aback by how much better it is than what they are used to using."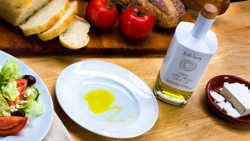 Kiklos means circle, such as the circles used on the front of the bottle, which is used to represent the olive as well as the circle of life and harvest. The company prides itself on using only natural ingredients, and has plans to expand into gourmet and retail shops throughout the U.S. "We now have Kiklos in over 20 high-touch shops, as we like to call them, which are very specific with what they allow to be sold in their shop," shares Bassett. "The fact that our olive oil is catching on so successfully really makes us proud that we are bringing a quality product to market."
Kiklos is sold in packs of six bottles that are 500 ml in size. There is no minimum order amount and pricing depends on amounts ordered. Retailers can try the olive oil out first in their store without committing to a full package, but Bassett says that once they taste the difference, they are guaranteed to make a purchase. "Everything about this product is natural and shows the importance of staying true to Greek culture. The cork is natural, with a wooden top, and there is no plastic used. The white label is used in honor of the Greek farmers because it protects the oil inside from the light."
In the future, the company is looking to expand into companion products that can sell with the olive oil. They are also planning to branch out into a different section of Greece and use a variety of olives for a different taste to add to their collection. Entering the holiday season, Kiklos offers wrapping paper to their retail clients, custom made for the product. "A lot of our customers love packaging this up into gift baskets, or even selling the olive oil on it's own," shares Bassett. "They love the flavor, taste, presentation and see our product as something special that can be sold year round and for a variety of occasions."