By IvyLee Rosario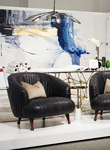 Housing 1,400 permanent showrooms and 10,000 exhibiting lines throughout the year, AmericasMart Atlanta is not your average trade show: they are a permanent, full-time facility. The permanent core collections consist of the Home, Gift, and Rug categories, each of which is expanded during several annual larger exhibitions. The next of these larger shows will be held January 12 -19, 2016 and will showcase more than 35 different merchandise categories within the three core collections. Seen as the one-stop shop for all things décor, the January 2015 show brought in over 90,000 attendees, and is rapidly growing.
"We have basically anything you can think of for a décor store. Within our three collections we offer home furnishings, furniture, rug, holiday, floral, gift, tabletop, gourmet, gardens and apparel," says Chelsea Peabody, Strategic Relations and Media Relations Manager for AmericasMart. "Gift is really strong for us, home décor is making big waves and growing, as well as home furniture and decorative accessories. We also have a strong gourmet and gardens collection; anything you can think of for outdoor living, we have."
The upcoming Atlanta International Gift and Home Furnishings Market runs from January 12-19, 2016 at AmericasMart in downtown Atlanta, with additional temporary exhibits on display from January 14-18. For those retailers interested in home furnishings, the Atlanta International Area Rug Market will hold its display from January 13-16.
Show management understands the changing needs of their buyers and are actively planning for the future. For 2016, AmericasMart is working with Pantone on announcing and showcasing the color of the year, offering the first presentation of 2016. "We will have a vignette gallery where 7 different designers will present a vignette inspired by the color of the year and its complimentary colors," shares Peabody. "It will be really inspirational, using products from home furnishings, tabletop and the gift collections, so retailers will be able to see how they can incorporate this color into their stores. We will also have an interactive gallery with the color of the year in use."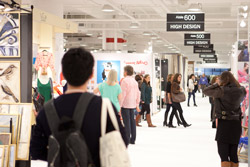 When planning your visit to AmericasMart, Peabody recommends making the most out of the show's online resources, as well as downloading their phone app to pre-plan for the shows. "Taking some time out to look at the layout is the most important thing. The buildings are a total 7.2 million square feet so there is a lot of ground to cover. Familiarize yourself before you come with where the collections that you want to see are located, and it's a good idea to make appointments. This is really important so you can make sure you are lined up to meet with the people you want to see, and they can help tailor a meeting that suits the needs of your business."
AmericasMart prides itself on being the go-to source for trends and finding all the must-have products for the whole year. Peabody explains that the best thing about the January market is that it is the first one in the new retail year; it is where the trends are established.
"We have such an amazing product mix and have everything you can think of," adds Peabody. "One thing we are seeing a lot with retailers is that it's more of a lifestyle type store versus a strictly home décor only store, or just apparel, or just gift, just gourmet," notes Peabody. "The fact that we have a 3 building integrated campus means you can source all those items here in one place. You don't have to go to multiple stores or venues, you can find it all here and you can find what's trending because its starting here, its launching here."
To attend the shows at AmericasMart, exhibitors and buyers need to register online. Buyers attending for the first time may receive help from retail services at the show, to help plan and organize their entire shopping trip. AmericasMart also provides an on-campus travel team to assist buyers and exhibitors with finding hotels and flight plans. Visit www.americasmart.com for discount details and more information on the 2016 shows.