By IvyLee Rosario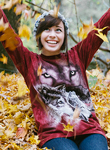 Known as the greenest t-shirt company in the USA, The Mountain Corp. uses the highest quality natural materials to create their apparel. From men's t-shirts and fleece, youth apparel, and women's tops and nightshirts, this company covers all the bases. "The Mountain is more than an apparel company, it is an ArtWear company that focuses on telling stories by outfitting its customers in unique, bold designs that help project their personalities and tastes to the outside world," says Colleen Manzi, Marketing Director. "This company believes that people should wear their passion as big and as loudly as possible."
Established in 1972, The Mountain offers over 1,000 designs and nine different shirt styles, concentrating on producing chemical free apparel for the entire family. "Being 'green' means being mindful of our choices," shares Manzi, "which has a direct impact on the environment and future generations."
The Mountain offers a full service custom printing program. Customers can have their own designs printed by expert artisans, using their signature water-based inks, on any of their hand-dyed garments, with both single and double-sided printing available. Customers may also choose from any of the nine shirt body styles. Or, if a customer has something different in mind, The Mountain will work with their customer to find the perfect garment. This customized program offers low minimums, starting at just 48 pieces.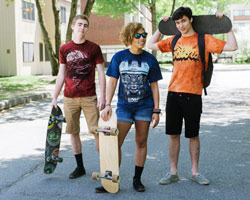 The Mountain is actively working on expanding their collection of collegiate apparel for their retail customers. Currently they offer 67 school designs and are on track to grow that number for 2016.
Also among their most popular styles for this past year are designs from artist Dean Russo, and the wolf collection. "This New York based artist draws inspiration from the urban landscape and his love for dogs to create truly unique artwork known for its brilliant colors and bold abstract designs of mesmerizing shapes and symbols," says Manzi. "In addition, The Mountain's Wolf Collection continues to sell extremely well. The collection kicked off with the iconic Three Wolf Moon shirt, which became a cultural phenomenon back in 2008."
There are no minimum amounts for ordering in-stock merchandise from The Mountain. Product is routinely marked up more than 50% of the wholesale price for retail sale. Men's t-shirts start at $12.50 wholesale, women's apparel ranges from $14-19 wholesale and youth apparel starts at $7.50 wholesale. For more information and to view the extensive collections available, please visit www.themountain.com.