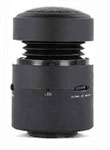 New Age Discoveries has launched a line of super small speakers, Sonic Quake, Sonic Pod and Lil' Wiz, that project sound from anything in a big way, while maintaining auditory quality. "Everybody has something they can't hear, whether it's sound from a laptop, cell phone or television," explains company partner, Josh Eastman. "Typically with speakers, the smaller they are, the worse they sound, but the opposite is true with our line. We've created about the smallest, best sounding versions on the market."
Sonic Quake, Sonic Pod and Lil' Wiz work with any standard headphone jack, and come with a one-year warranty. They run off two AAA batteries or an electrical charge, and a USB cord is included. Lil' Wiz, at 2.2″ by 2.8″, is the largest of the trio and comes with a mount. It retails for $130 and wholesales for $75. This is the company's, "industrial version," Eastman notes, "and will actually shake the drywall in a house." It features blue tooth and has a microphone. Sonic Quake retails for $80 and wholesales for $15, and Sonic Pod retails for $50 and wholesales for $10.
A looping DVD is available, and retailers can attach product photos to a piece of foam board to create their own point-of-purchase display. Through December 25, New Age Discoveries is offering free shipping, which is a savings of $20 to $30. The minimum order is $400, and the company offers a buy back guarantee, so there is absolutely no risk, Eastman states.
For more information:
New Age Discoveries
Tel.: 920-533-3579
Website: www.sonicquake.com