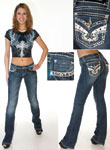 It seemed only natural that Jack Newman, president of Hudson Wholesale, Inc., and Bret Kelly, principal of Jobber 1 Wholesale, should combine their 45 years experience in the wholesale fashion apparel industry. Now they run an operation supported by two large warehouses and an ecommerce site. While a visit to the warehouse promises closeout opportunities on men's and women's clothing, independent retailers find their needs are exceeded on the ecommerce site. "What sets us apart from other wholesale clothing distributors is our small pack quantities and opportunity to purchase by the piece," says Kelly. "We offer wholesale jeans in six packs or 12 packs, we sell tops and dresses by the piece wholesale only, and we do NOT sell to the public."
But that isn't all that sets Hudson Wholesale apart, as Newman and Kelly both point out the company's well recognized line of jeans, and their ability to bring in 100 new items a week. "Every email we send to our customers showcases new items," notes Kelly. One of the company's best sellers, according to Newman, is LA Idol jeans. "Like all our jeans, these are flying out of the warehouse." Jobber1/Hudson Wholesale also carries colored skinny jeans and traditional styles with a little flare and bling. "We have really positioned ourselves as a top jean resource," says Newman.
Depending on the preferred style, jeans can be purchased from $6 to $40 wholesale. Six packs can be ordered in smaller size runs, larger size runs and complete size runs. "We find that smaller stores have to liquidate jeans in duplicate sizes associated with buying 12 packs. We suggest if a retailer is finding a lot of bigger or smaller jean sizes left in their store, they can avoid it by ordering jeans in a six pack accordingly, if retailers work off our inventory the risk of liquidating is far less, making the reward greater and guaranteed." suggests Kelly. "Our wholesale jeans are guaranteed top quality and without defect." From time to time, the company offers overstocks at 30 to 80 percent below wholesale prices. Newman recommends that anyone interested in closeouts visit the warehouse in Hackensack, NJ.
Jobber1/ Hudson Wholesale, however, has expanded way beyond jeans. Offering tops and dresses, from conservative to risqué, offered by the piece as a six or 12 pack. These can be ordered in assorted colors and sizes. "The key is to meet the small retailer's needs. We don't want to leave you with merchandise that needs to be liquidated," explains Kelly. "We want you to get the amount you can sell, and order more when you need to restock."
On the web since 1999, they saw record-breaking sales in 2011. Kelly states, "We must be doing something right." Other beneficial offers for Jobber1/Hudson Wholesale customers include a low minimum, shipping specials, and even clothing display options. For a minimum of $120, retailers can mix and match their order of six and 12 packs. Any order over $500 receives free shipping. For those retailers who need a little help showcasing their merchandise, Jobber1/Hudson Wholesale also offers full and half size mannequins, as well as bust forms. The staff, "Se habla Español."
For more information:
Jobber1/Hudson Wholesale, Inc.
326 Hudson Street
Hackensack, NJ 07601
Toll Free: 800-832-1216
Tel.: 201-489-7282
Website: www.jobber1wholesale.com