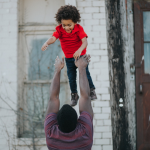 Consumer confidence translates to heavier holiday spending. This Father's Day confidence and projected spending are at near-record highs of $15.3 billion, according to the National Retail Federation. According to the annual study, "a total of 77 percent of Americans will celebrate Father's Day and spend an average of $133 per person." This expected spending is just below last year's $15.5 billion, the highest in the 15-year history of the survey at an average $135 per person.
NRF president and CEO Matthew Shay says, "We are pleased to see consumer confidence continue to rise, leading to another near-record holiday spend on Father's Day. Leading into the second half of the year, Americans are looking forward to treating their dads and retailers will be prepared to offer a variety of gift options that will create new memories on this special day." According to the survey, consumers plan to spend $2.2 billion on clothing, $2.1 billion on gift cards, and $1.8 billion on consumer electronics. Special outings and events are also popular gifts, with 47 percent of consumers planning to treat dad to a concert, sporting event, or dinner.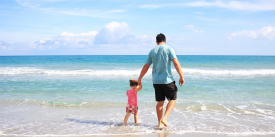 While overall spending may be up, a new survey by Ebates indicates gift-givers may be missing the mark. According to the data, half of Americans think Dad doesn't want a gift, but when dads were asked,only 7 percent said they didn't want one. When it comes to what kind of gift dad wants, gift givers and receivers are on a more similar page:
What Families Think Dad Wants: What Dad Really Wants:
Tools — 28 percent 1. Electronics — 38 percent
Electronics — 21 percent 2. Tools — 33 percent
Hobby essentials — 21 percent 3. Beer — 29 percent
Beer — 20 percent 4. Outdoor equipment — 26 percent
Outdoor equipment — 19 percent 5. Tickets to an event — 24 percent
Dads also ranked the two items they want the least: candy (10 percent) and a tie (7 percent). The survey also found that three-quarters of Americans have never forgotten about Father's Day, and that dads care more about receiving an actual gift than moms do: 44 percent of dads said they want a physical gift, but only a quarter of moms agreed. This weekend, help steer last-minute shoppers in the right direction with electronics, tools, and experiences. Father's Day is a holiday not-to-be-missed by retailers, shoppers, and dads across the country.