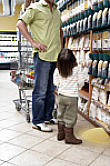 A new survey just released by Shop.com indicates that consumers are still shopping more by price than brands this year.
A significant two-thirds of retailers who responded to the query claimed their shoppers were "price-sensitive" and were on the lookout for deals. Only 24% of those asked said their shoppers went for brands over price.
"We are in a unique position to be in contact with so many top retailers spanning such a wide selection of categories — giving us a very complete picture of shoppers' spending habits," Mondy Beller, Senior VP of Marketing for Shop.com, said in a release. "It's not surprising to us that many of our merchants, regardless of their offerings, are saying that their customers are still cautious when it comes to their pocketbooks."
According to the survey, Christmas is still the top seasonal time for most retailers (80%), followed in succession by back-to-school (25%), Mother's Day (21%), Thanksgiving (20%), and Father's Day & Graduations at 15%.
The research also found that social media is growing in popularity among retailers. Some 59% use Facebook and Twitter to promote sales and products, and another 64% use it to communicate news, the survey found.
To see the complete report from Shop.com, click HERE.