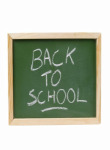 For parents doing back-to-school shopping this year, retailers would be wise to add numerous, unexpected items to the list of available offerings.
According to a published report, beleaguered school districts are asking parents to send their kids to school with garbage bags, plastic cutlery and even toilet paper.
DrugStoreNews.com reports "reductions in funding for school districts across the country because of lower tax revenues and spending cuts have forced many school districts to add a host of unexpected items to Junior's must-have list of school supplies."
And while that's good news for shop owners, there is a downside: Bloomberg reports that weary parents are waiting for prices to drop before pulling the trigger on purchases.
"No one buys on the first markdown," said Craig Johnson, president of the New Canaan, Connecticut-based consulting firm Customer Growth Partners. "Only chumps pay full price. We haven't seen the desperation fire sales yet."
One analyst told Bloomberg the full buying surge won't begin until well into September.
Still, signs are good that consumers will be spending strongly in the coming weeks.
A new report from market research firm NPD group says consumers are feeling better "and have plans to spend more money and shop in more stores." Those who plan to spend less this year was only at 38% of respondents, versus 44% who reported the same last year.