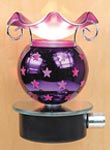 Consumers crave an aromatic environment, and scented products continue to have broad appeal as affordable gifts as well as staple household purchases. Today's wholesalers make it easier than ever for retailers to sell a variety of fragrant products, such as perfumes, lamps, body oils, incense sticks and burners, and candles, at great profit margins.
L&V Creations, family owned and operated by husband and wife Luis and Valerie Santoni, along with their son Edwin, is a leading manufacturer and supplier of wholesale aromatherapy gift items, including essential oils, perfume body oils, incense and incense burners, and the original Plug In Night Lite Aroma Lamps. The scent from L&V's decorative plug in lamp permeates an entire home or office, Luis Santoni points out, and it also can be used as a low intensity light. "We double paint and double bake our lamps so they won't lose their colors, and our fragrances are strong and long lasting. We always have new designs, and our variety of products enables retailers to cater to their exact markets."
Policies support smaller retail shops
Having operated successfully for 16 years, Santoni says he is committed to helping others grow by offering good quality products and low minimum orders. "We care for the small retailer. My minimum order is $75 and retailers can mix orders with different products, to extend their buying power and appeal to a variety of customers. We treat people the way we like to be treated, and today we have about 2,000 customers."
Retailers can easily triple L&V's wholesale prices, Santoni points out. The company's Plug In Aroma Lamp wholesales for $6.50; half-ounce bottles of fragrance oils, sold in quantities of six, wholesale for $4.50; and two-ounce bottles of fragrance oils, in boxes of four, sell for $7. To be successful with this type of product, Santoni recommends that retailers' offer a wide range of price points. "Mix it up. That is very important in this business. Do not offer only low-end products, but offer mid and high-end products as well." Point-of-purchase displays are available.
Natural products popular sellers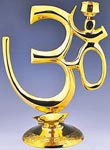 VD Importers Inc. also wholesales incense sticks and burners, fragrance oils, candles and aroma lamps, as well as meditational products. The company launched in 2008 and imports its products from India. "We offer high quality incense sticks and aroma oils that are blended with natural fragrances," says Vineet Gupta, owner of the company. Today's consumers like more natural products, he adds, and they purchase aromatic products for both their homes and offices. "We have more than 300 fragrances, with some of the most popular being sandalwood, lavender, patchouli and jasmine, and we regularly add new varieties. We also carry candles for household use as well as for religious purposes."
A half-ounce bottle of fragrance oil wholesales for $.65 and retails for $1.99, while the two-ounce bottle wholesales for $1.35 and retails for $4.99. The minimum order is $100 plus shipping costs, and the company offers additional bulk quantity discounts. Point-of-purchase displays, sold separately for $40, hold 96 two-ounce bottles or 216 half-ounce bottles. However, displays are free with the purchase of 500 bottles of oil. VD Importers recently launched its new website where retailers can see all the company's products and prices, as well as order online.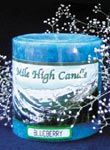 Jainsons International offers a line of fragrance products made in the USA, at the company's Colorado plant. Husband and wife team, Rama and Dave Jain, launched Jainsons in 1996, and wholesale incense, fragrance and body oils, as well as candles, cones and a large variety of burners. "We have a 10,000 square foot warehouse where we make incense and oils daily," notes Rama Jain. "We buy all our fragrances here in the U.S., and products made in the USA are very popular with consumers today."
Variety breeds retail success
Jainsons began with 55 fragrances and now has 120 scents. "Some scents that are always popular are sandalwood, lavender, baby powder and rose," Jain points out. Wholesale prices are low, she adds, and retailers can buy a half ounce bottle of fragrance oil for $.85, and a bundle of 10 incense sticks for $1, for example. Jainsons' Mile High candle, another hot seller, is available in 24 fragrances. A sizable two by six inches, the candle is made of paraffin wax with a lead-free wick and wholesales for $4. Notably, Jainsons has not raised prices on many of its products in 10 years, and retail price can vary based on where the merchant is located. Wholesale prices are available on Jainsons' Wholesale Central website, and the minimum order is $50. The company offers various point-of-purchase displays, such as a 19 inch polished and carved wooden case that holds 90 bottles of fragrance oil. Retailers receive 60 bottles and the display for $90. "I stand behind our products 100 percent," Jain stresses, "and no one is disappointed in the quality of our products and service."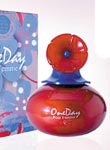 Veneto Fragrance Inc., launched in 2007, is a wholesale company specializing in the manufacture of high-end rendition designer perfumes. "What sets Veneto Wholesale Fragrance apart from the rest is our huge variety of great designer fragrances at great discount pricing," says Daniel Elyakim, owner and CEO of the company. "Some of the hottest trends in fragrances right now are Justin Beiber, Paris Hilton and Juicy Couture, and we have great high-end renditions of them all."
Veneto launches new line
Veneto Fragrance introduces new scents on a daily basis, and recently launched its very popular Smart Collection in 3.3 ounce 100 milliliter bottles. The collection, available for both men and women, is sold in a 24-piece mixed display at $24, as well as in a pack of 12 3.3 ounce bottles for $30. Wholesale pricing for Veneto Fragrance's more popular lines is $1 to $10, and suggested retail is $10 to $50. Veneto Fragrance's minimum order is $100 within the U.S. and $3,000 for export. Point-of-purchase displays are available.
Scented products, including perfumes, body oils and candles, continue to please consumers as inexpensive self-indulgences, as well as ever-popular gifts for holidays and house warming events. Suppliers such as L&V Creations, VD Importers, Jainsons and Veneto Fragrance offer a wide variety of tried and true formulas, with new introductions sure to satisfy a diverse clientele in any retail setting.
WHERE TO BUY
L&V Creations
5415 NW 161st Street
Hialeah, FL 33014
Toll Free: 800-660-9081
Tel.: 305-430-9700
Website:
www.scented.com
VD Importers Inc.
4960 NW 165th Street, Unit B20
Miami, FL 33014
Tel.: 305-620-2006
Website:
www.vdimporters.com
Jainsons International
3505 East 39th Street
Denver, CO 80205
Toll Free: 888-524-6766
Tel.: 303-394-9996
Website: www.jainsonsintl.com
Veneto Fragrance Inc.
549 NW 28th Street
Miami, FL 33127
Tel.: 305-572-0150
Fax: 305-572-1617
Website:
www.ud2006.com