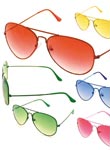 When it comes to the top accessories for spring and summer, bright sunglasses, lightweight hats and breezy scarves lead the way, and New York City's Broadway Sun Ben Trading, Inc., offers retailers a line of high fashion sunglasses, scarves, gloves, hats, leggings and apparel. The company both imports and manufactures its merchandise, and has a wholesale store and two warehouses in Manhattan and Brooklyn. "The Sun Ben brand has a reputation for high quality, stylish designs, having been in the wholesale business for decades," says Neal Hsieh, business development manager for the company
Since Broadway Sun Ben Trading launched in 1980, sunglasses trends have transitioned through multiple shapes and sizes. The classic wayfarer surged to the top of customers' shopping lists in recent years, and is expected to remain there throughout the summer, in styles with neon frames and colored lenses. Alternatively, Broadway Sun Ben's item 4641CC, an aviator frame available in hot pink, grass green and lemon yellow, with both lenses and frame in the same hue, is also expected to be well received with consumers. Lenses are also being produced with gradient tinting, so that the pigment fades out towards the bottom of the lens. In terms of frame shape, the arms of women's styles are narrower at the temples this year than in the past, as the oversized look has begun to diminish in popularity.
Embroidery, studs, bows and more
Best selling headwear this summer will have the appearance of being custom made, according to industry sources. Hand embellishments such as patches, embroidery and studs are common features on baseball caps, whereas women's paperboy caps are dolled up with buttons and bows. Wide brim sunhats are also all about detail this year, and many of Broadway Sun Ben's hats boast delicate stripes, flowers, cutouts and straw bows. The sun faded look is available in styles for both men and women, specifically in women's item number H2260A, and men's items H3109 through H3112. Another cool summer item is the ivy cap, item number H3107, made of 100 percent cotton and available in assorted colors.

In addition to breathable headwear and colorful sunglasses, scarves will continue to be popular as temperatures rise. Consumers will shop for bright, lightweight pieces, such as Broadway Sun Ben's spring/summer scarf, item number S3107, available in blue, bright pink, coral, peach and lime green. Whether worn around the neck or tied around the hips as a belt or swimsuit cover up, summer scarves offer retailers several merchandising options, and can add a finishing touch to any window display.
Accessories are great add-on and impulse buys in apparel shops, kiosks and general merchandise stores when placed beside a cash register or on a stand near a mirror. With Broadway Sun Ben's wholesale prices ranging from $20 to $60 per dozen, and individual pieces retailing for $10 to $30, retailers stand to earn substantial profits in this arena.
Where to buy
Broadway Sun Ben Trading Inc.
1225 Broadway
New York, NY 10001
Toll Free: 800-325-0027
Tel.: 212-725-8881
Visit Broadway Sun Ben