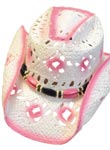 Summit Hats, located in historic Houston, TX, provides retailers with a diverse line of western hats, hat accessories and belts, some made in its factory and others imported from around the world. "We're introducing a new line of palm hats," says Ken Tsai, owner of the company. "This style of hats is becoming extremely popular because country singer Jason Aldeen wears palm hats. The new one he is wearing is a black palm, and we're going to be introducing our own version of that as well."
Palm hats are a natural straw palm made in the traditional western style. They feature a four-inch brim and have a lower crown than other western style hats. "Some of the palms have a toasted look, where they are burnt around the crown and edges of the hat," Tsai points out. "People want things that are affordable and still attractive and high quality, and we're able to offer that with palm hats." Palms wholesale for $5 to $14.50, and markup is generally two to three times wholesale price.
Fashion hats are also very popular these days, Tsai comments. Summit Hats' latest line of fashion hats is made of nante straw and comes in 11 colors, including light and hot pink, black, light blue, lavender, tea stain and multi-colored. "Nearly all of our hats are unisex, until you get into the colors or the hatbands. Our fashion hats offer different hatbands and a variety of distinctive looks," Tsai explains. Fashion hats wholesale for $7.50 to $12 and retail from $25 to $40, depending on the retailer's location.
Belts and Hat Accessories
In addition to its newest lines of hats, the company is increasing its belt line as well as introducing several new hatbands. "People personalize their hats with hatbands, and a lot of people like crosses and rhinestones these days," Tsai shares.
People who work or play outdoors tend to wear hats year round, and when the weather gets warm in seasonal climates, almost everyone wears headgear. Fairs and rodeos are popular sales venues, Tsai notes. "People are always looking for the cool new styles that celebrities are wearing."
Summit Hats has more than 200 styles and adds new hats to its collection about every two months. Retailers looking to provide their customers with the best fit will find it in Summit's high-end Shantung and custom hats, as well as its other competitively priced options. Launched in 1970, the company keeps its 20,000 square foot warehouse well stocked, and fills orders within four hours of receipt.
Where to buy