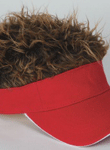 Flair Hair Visors, Ski Caps and Bandanas are fun for everyone with thick or thinning hair, and can be worn anywhere as a fashion statement, a protective covering or for some novelty fun. The comfortable adjustable ski caps, bandanas, and visors with hair are great for golfing, fishing, motorcycle ridiing, hiking in the mountains and anything else you can think of. And if you want to sport the blonde colored hair you grew up with, or go brunette, black, or gray for a day, you have that option. The product line began with Flair Hair Visors, which has expanded its design to solid colored visors, camouflage, flames and floral, and pastel for those female Flair Hair fans. "It's spiky hair with a visor attached, made of cotton, acrylic and polyester. It can really be made into any color or design," says Jennifer Delaney, vice president of business development. Flair Hair Bandanas and Ski Caps were later additions to the line, taking into account other hatware preferences.  "We are looking to add more products. We have a new offer called wingbandits, which are bandanas with wings. All our other products are still being tested, but should be coming out in the fourth quarter," Delaney notes.
Flair Hair Fun Novelty Product
However, for those retailers looking to carry the company's classic favorite in the ever popular novelty category, Flair Hair Visors can be purchased with a call to the company for wholesale pricing. "We like to work with each company individually, to decide what retail price will work best in their store and market," Delaney explains. "Then we customize our wholesale offer so that they can at least meet a 50 percent profit margin. There are also rack programs available." While a 24 piece minimum is required, the rack program provides an assortment of 36 visors and a display, with an additional 14 free visors and free shipping. For those retailers interested in learning more about the market and popularity of these caps, Backgate Designs provides a link to Flair Hair products' Facebook page on its company website, where customers post pictures of their new dos and talk about the product.
For more information:
Backgate Designs, Inc.
165550 Raiload Ave., Ste. B
Morgan Hill, CA 95037
Tel.: 866-999-3220
Fax: 408-273-6315
Email: information@flairhair.com
Website: www.flairhair.com