by Lisa Evans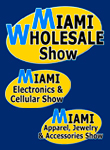 Welcoming buyers from more than 40 different countries including the Caribbean, Central and South America and Europe, the Miami Wholesale Show has become the "Go To Show" for buyers and suppliers alike.
The next show runs from April 3 – 5, 2016 at the Miami Beach Convention Center, in Hall C, and is expected to be jam-packed with merchandise of every kind. "The show is the major gateway show to Latin America and the Caribbean for buyers and suppliers," says Michael Finocchiaro, show owner. "We are the one show that caters to all the buyers from this region, and beyond."
In fact, the multi-national flair is one that Finocchiaro and his team have worked hard to develop and grow. "We've established great relationships with over 2,000 professionals associations throughout the region – in 43 countries," Finocchiaro notes. Buyers can anticipate finding new product debuts, below-wholesale priced deals, and deeply discounted show special pricing for attendees at the upcoming show.
With merchandise spanning multiple must-have categories such as apparel, fashion accessories, housewares, gifts, toys, health and beauty, home décor, electronics and more, Finocchiaro is confident of providing a true depth of product variety. "We have a very diversified show, and that's by design. We want to carry a variety of products, because that's where our buyer's interest is. In Latin America and the Caribbean markets, buyers have many products in their stores, they tend to carry a range of things and they can come to the show to find everything they need. Buyers don't come to buy just one thing, they buy a range, and we have it all."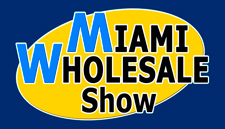 This is a hugely popular order writing show where, Finocchiaro notes, the buyers are getting smarter and smarter each year. "You have a new generation of young entrepreneurs now. It's a very savvy group that is using a lot of different media at their disposal. What we are seeing is that these new buyers are doing things like opening a line of chain stores where in the past someone might have opened only one store. With this new young group, they are much more aggressive, and act quickly to open new stores."
Finocchiaro, with more than 30 years experience in the wholesale show business, is well placed to identify new and upcoming trends in merchandise and is buying. "Don't forget, this show is the Latin American and Caribbean connection. We also bring in buyers from the lower Southeast of the United States, from Atlanta on down. It's a really wide variety of buyers. We have products that appeal not only to the overseas market, but to US buyers, too, everyone from flea market vendors to major retailers, imports and exporters."
To register for the show, or for additional travel information, please visit the Miami Wholesale show website at www.miamiwholesaleshow.com.