By Christian Kratsas
It's natural for society to push back when change occurs. We all become accustomed to our daily routines and business operations. When a natural routine is disrupted, it can take time to build the trust and familiarity necessary to accept that change.
For those in the retail industry, one major disruption occurred about seven years ago in the form of social media marketing. Today, as industry leaders and fellow storeowners speak to the positive impact social media can have on business, many merchants are devoting time and energy to this type of marketing. Following a few best practices, every independent retailer can seamlessly integrate the three biggest social sites into their day-to-day operations.
Build the hub of your social community
As a retailer, the roots of your social community begin with a Facebook business page. If you have not created one yet, now is the time. Begin by completing your "About" section. This is one of the most important pieces of your business page because it enables you to be found when customers are searching for a local store through Google, Bing or Yahoo!, and can drive traffic to your store. As for the general information, be sure to include your store name, website URL, hours of operation and contact information. In the "Description" section, include what makes you unique, the variety of products you offer and some background about your business. When writing your description, include key words and phrases that your customers will use when searching for your business online, so you will have a better chance of appearing in their search results.
Once your information has been optimized for search, start posting. Create a variety of content that will entertain and connect with your customers. Posts should include your products, promotions and special events, along with a mix of humor, inspirational messages, community happenings, charitable outreach and anything that resonates with consumers. Put yourself in your customers' shoes, and think about the type of content that would interest you and keep you coming back.
Create a traffic driver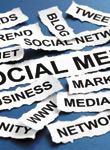 Because more than 1.06 billion people are active Facebook users, you might think that it is the only network where you need a presence. Do not forget about the little blue bird, however, as Twitter has more than 200 million active users. Twitter is a great tool for having one-on-one conversations with your customers while driving traffic to your Facebook page, website or other media. If you are new to Twitter, you should follow the same steps you took to complete the information in your Facebook profile. Twitter is a microblogging platform, so you are limited to 140 characters per post. Stay consistent and summarize what you have on your Facebook page.
Twitter is a great venue to announce store events, post links from Facebook photo albums or tweet blurbs with product pictures. You can also reach out to your customers directly by using the "@" symbol and their user name. Customers can consume quick snippets of information, and take action when interested. The trick is to entice consumers to take a trip to your store with brief tweets that represent your brand.
Share an inspirational bulletin board
Put your products in the spotlight with Pinterest, the hottest social network for retailers. Begin by creating three or four boards with specific titles such as "Products to Turn a House into a Home" or "Outfits for Summer Vacation." Populate each board with enough images to gain the attention of your following. When pinning images to your boards, give each a short description filled with enough keywords so your followers can find them through Pinterest's search feature. Always thank your customer for sharing your products. Pinterest makes this easy because you can see who repinned your items right from your profile.
Now that you have a sense of how to begin marketing on the top three social networks for retail, start implementing what you have learned. It is time to harness the power of social media and drive customers to your store.
Christian Kratsas is the social media and content manager for SnapRetail, a ready-to-use marketing solution for local storeowners. He has educated thousands of retailers on email and social marketing through multiple speaking engagements and consultations. Kratsas has an advertising and technology background, earning a BA in Business and Marketing from the University of Pittsburgh, College of Business Administration.