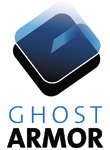 Ghost Armor™ is a proprietarily engineered clear polyurethane film that protects cell phones, cameras, GPS units, game systems, tablets, watches, laptops, MP3 players and more. The product prevents scratches, as well as hides existing scuffs on devices, and gives them a fresh appearance. Made in the USA, Ghost Armor is based on the same polyurethane film used on the leading edge of helicopter blades and fighter jet wings to reduce damage to these very expensive parts. "The quality is unmatched in the marketplace," says Wesley Garrett, one of the company's three owners.
In addition to this extremely durable polyurethane film, Ghost Armor incorporates a ZeroGrease™ TopCoat barrier that repels fingerprints, smudges, makeup and oil. The product also has SmartRelease™ technology, which provides the easy installation and clean removal of the proper amount of adhesive. Ghost Armor is backed by a lifetime warranty, and can be custom designed to protect thousands of electronic devices.
Ghost Armor is available in full body or screen-only coverage options. Full body coverage is ideal for the consumer who wishes to keep his or her entire cell phone and screen protected yet free of a bulky case. The case friendly version, for select devices, is for customers who want as much protection as possible, while using an external case. Ghost Armor is available in several colors.
The Matte Armor™ and Carbon Armor™ products extend the Ghost Armor line
Matte Armor provides an anti-glare screen and full body matte appeal, while Carbon Armor offers the look and feel of carbon fiber. Each provides the same protection as the company's other Armors.
Ghost Armor takes 20 to 30 minutes for installers to apply, using the firm's state of the art dry box system. "Our innovative dry box cuts down the wait time for customers, optimizes counter space and gives retailers a secure place to keep devices," Garrett states. "Not only that, the system creates a buzz that attracts attention."
Ghost Armor products offer merchants healthy profit margins and, with the ongoing surge in the popularity of smartphones and electronics, are strong sellers in many kinds of shops. Retailers can contact the company for wholesale pricing. "We are willing to work with merchants," Garrett expresses. "For discounts, orders are generally at least 100 units, but we make special considerations for schools and nonprofit organizations."
In addition to selling directly to retailers, Ghost Armor offers a mall cart program. The turnkey system provides exclusive territory rights, as well as comprehensive marketing and training materials, and there is no perpetual percentage to pay.
Ghost Armor, launched in 2007 by Benjamin Blatter, Jesse Hallock and Wesley Garrett, opened its first retail location at Arizona Mills Mall in Tempe, AZ. The firm started its licensee department in 2009. Ghost Armor now has successful operators in 200 locations in four countries, Garrett shares. "Our philosophy is to take care of our customers and, in return, they will take care of us by becoming customers for life."
Where to buy:
Ghost Armor
1470 N. Horne St.
Gilbert, AZ 85233
Tel.: 888-960-ARMOR (888-960-2766)
Visit: Ghost Armor