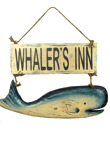 J.D. Yeatts & Son was launched in 1975 by the late J.D. Yeatts Sr., and sells its brand of products under the trademark name, "Chesapeake Bay Ltd." The product line consists of about 2,400 items in several categories and themes, including Home Décor, Giftware, Lawn & Garden, Nautical, Western and Fleur de Lis. "Our goal is to stay on top of current trends," says owner Robert Yeatts. "We offer top quality products that consumers want for their homes, and to give to friends and family.
"Our team attends trade shows and reads magazines, including Independent Retailer, to see where the trends are going," Yeatts continues. "In addition to importing products, we have a great design team that develops new product ideas in-house. We create a lot of the nautical merchandise ourselves." Chesapeake Bay's nautical line is very popular with consumers, and the present move is toward bright colors such as coral, turquoise and rainbow. The company offers a large assortment of merchandise in this category, including lamps, birdhouses, wind chimes and table art, plus decorative table sculptures like pelicans, fish, seahorses, turtles and boats.
Nautical wall art is a big seller
Wall art is available in a variety of landscape scenes, shorelines, welcome signs and sea life, and the company's nautical line is particularly popular. Pieces range in size from six by 10 to 24 by 36 inches. Smaller pieces wholesale for around $1.25 and retail for $4.99, and larger items wholesale for $12.50 and retail for $29.99. Bulk bags of seashells are also very popular with consumers. "Many women are very creative with these sorts of things," Yeatts shares. "One interesting thing I see a lot is to pour the shells into a big glass bowl, fill it up with water and float candles on top."
Another upcoming trend Yeatts is sure will be a winner is the yard flag. "It was really big a few years ago, and it's a promising novelty again. We're going to carry 50 to 75 designs, including floral and wildlife scenes, and a variety of other designs." General home décor products the company sells range from vases, planters and oil lamps, to candleholders and more. The wide selection of lawn and garden merchandise includes such favorites as a Stars and Stripes house flag, flower garden sticks, birdhouses, garden statues and decorative rocks. The fleur de lis line includes bowls, tealight holders, frames, jars and jewelry.
J.D. Yeatts & Son has a minimum order of $300. Showrooms are located in Danville, VA and Atlanta, GA, and the company ships to all 50 states as well as other countries. Whether you are a small gift shop or an 800-store chain, J.D. Yeatts & Son is dedicated to increasing your profit margins.
Where to buy:
J.D. Yeatts & Son, Inc.
P.O. Box 801
680 Lynn Street
Danville, VA 24543
Tel.: 434-797-1949
Visit:
J.D. Yeatts & Son