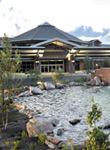 The International Gift Exposition in the Smokies (IGES) and Souvenir Super Show (SSS) will be celebrating its 14th annual Gift Expo November 5–9, 2013. "We are so grateful for our outstanding and loyal buyers and exhibitors, and for the overwhelming support they have shown IGES for well over a decade," says co-owner Susan Mills.
"Our buyers come first," states co-owner Jerry Mayer. "If our buyers have successful experiences, exhibitors do as well, and everything else falls into place. Everyone benefits. Our continued success is due in large part to our incredibly loyal group of buyers and exhibitors."
In 2000, with only 272 booths and barely more than 3,000 buyers, IGES was small but successful from the start. Now with more than 1,200 booths available in 2013, IGES/SSS has grown to become a part of the largest gathering of wholesale souvenir, resort and gift buyers and exhibitors in the world.
This year, the show continues to extend its reach. Due to the overwhelming demand from buyers to showcase more top vendors with more products, IGES/SSS is expanding into two locales, the brand new LeConte Center in Pigeon Forge as well as the Sevierville Convention Center. "With two convenient locations for 2013, the Smoky Mountains in November is one attraction buyers and exhibitors won't want to miss," Mills stresses. "This is truly the largest gathering of souvenir buyers and exhibitors in the world."
"While Sevierville has become our flagship location, we are delighted to expand back into Pigeon Forge this year," Mills continues. "In utilizing both of these convention centers, we are able to honor exhibitor requests for expansion and offer 95 percent of our exhibitors main hall space. This is nearly unheard of in this industry." Ultimately, it enables many IGES exhibitors to showcase their entire product lines, as opposed to partial exhibits, giving buyers a more rounded and complete buying experience.
Again this year, IGES will be hosting national buying groups, including ZAG (Zoo and Aquarium Gift Buyers), the NCA (National Caves Association), Museum Buyers, Water Park Buyers, Campground Buyers and NARB (National Association of Retail Buyers), as each group celebrates its annual meeting and/or fundraising event in Sevierville and/or Pigeon Forge. "Large or small, all retailers are welcome and invited to join the festivities in November as we celebrate 14 years in the Smokies," Mayer comments.
For more information:
IGES
Toll Free: 800-430-7608
Website: www.iges.us