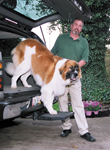 Otto Step is offering its Otto Step Dog Safety Step, which is a compact, durable and easy to use portable platform that assists dogs as they get into and out of a sports utility vehicle. No more picking up the dog's hind legs to get him into the vehicle. The Otto Step will insert into a standard 2″ trailer hitch receiver. Think of Otto Step as preventative medicine for man's best friend. Most owners of large dogs are unaware of the damage these animals can sustain to their hips and joints from jumping from a high vehicle, down to the hard pavement.
The Otto Step is constructed from lightweight, durable, super strong nylon glass filled plastic that can easily hold over 200 lbs. The unit weighs only 5.5 pounds and the platform is 18″ x 16″. When dogs are not jumping out of the SUV, the Otto Step platform stores easily in the back of vehicles, which can be quickly reinstalled for use. Wholesale for a case of five is $39.95 a unit, or $195 per case, plus shipping. The Otto Step platform has a suggested retail of $79.95 and comes with the, "Otto Step Training Guide," which can be downloaded from the website. Also available is a Drop-Down Hitch Receiver for larger SUVs. This hitch, which has a suggested retail of $29.95, will drop down the Otto Step platform a full seven inches. The wholesale price of the Otto Step Drop Down Hitch is $20.
Some pickup trucks need an extension to install the Otto Step platform. The firm sells such a unit, which is easy to install, for a suggested retail of $20. This adapter works for a 1-1/4 inch hitch receiver. The wholesale price of the Otto Extension is $20.
For more information:
Otto Step Inc.
35200 Southwest Riverside Drive
Albany, OR 97321
Toll Free: 888-311-6886
Tel.: 541-730-6250
Website: www.ottostep.com