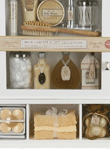 If your business caters to gift buyers, California based Morgan Avery has a full line of boutique-quality gift baskets with a wide array of scented candles, soaps and more. Offered in six collection categories, including bath, spa, romance, home, fragrance and candle, Morgan Avery's gift baskets meet the need of any gift giving event. Wholesale pricing on the gift baskets range from $10 to $40 and more, while retailers can expect to receive keystone and more. Morgan Avery's gift baskets are well suited for the home décor, home fragrance, health and beauty, and candle markets.
The Gift of Fragrance: Many Scents Fit All
Carrying a full line of spa baskets, Morgan Avery's current bestseller is the Bain D'esprit Bath Collection, featuring lavender and vanilla scents. "The set features 18 items, including potpourri, body powder, bath crystals, lotion, hand cream, and more," says JoAnn Benson, general manager at Morgan Avery. Among its Romance Collection a variety of heart shaped products, flower tealights, pink and red candles, and more are sure to assist in creating that romantic ambience.
Beginning two years ago, with its first selling season during Christmas 2008, the company has since then seen tremendous growth. "We've been going strong since then, and in 2010 we doubled our business over 2009," Benson explains. In fact, "Our candle company is one of the largest in the world, in terms of sales volume." The company has more than 250 different skus and currently sells to corporate buyers, as well as casino gift stores, fundraisers, and hospital gift shops. "We can also dropship any of our items for buyers, and we're now looking to expand our presence in the retail market," Benson notes. There's no need to commit to inventory costs or warehousing expenses.
For more information:
Morgan Avery
26332 Ferry Court
Santa Clarita, CA 91350
Tel.: 818-633-8628
Toll Free: 877-438-3152
Website: www.morganavery.com