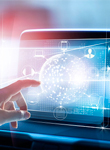 By Rick Moss, President, Co-founder, RetailWire
Recently, while tuning in to the second episode of a new Netflix series, a new button appeared — "SKIP INTRO". I thought, "Damn. Now, that's a good button. Who needs to see the same credit sequence again?"
As retailers plan for 2018, they need to think up with buttons like that. Another example is Pandora's "Thumbprint Radio" that in a single click uses AI to create a personalized music channel based on the "thumbs up" votes you've given your favorite songs. E-tailers are for some reason fond of using browsing history to build recommendations, which of course rarely works well. How often do you see thumbs up/down buttons on product pages so customers can tell the merchant what they prefer?
Consumers now anticipate ongoing upgrades to their retail experiences in much the way they used to look forward to new Apple product updates. Amazon understands. They keep the PR churning month after month with announcements of new ways to trim your delivery time, reduce your decision-making annoyances, and get your stuff cheaper.
In the coming year, most competitors will fall further behind in this race. Walmart®, however, under Marc Lore's bold leadership, will gain ground on Amazon at an accelerated pace. Target® is showing signs, too, that they can remain in the running. Many innovative retail startups will rise above the fray because they have damn good buttons. Amazon and Walmart.com will gobble up the best. However, the bubble will burst on subscription retailers, which will sadly fare as well as the daily deal sites that looked so darling last decade.
So, I see Amazon running strong through the first two or three quarters of 2018 and probably a bit longer. And yet a growth slow-down is inevitable. The coming year may very well mark a turning point as competitors roll out better buttons than Amazon.