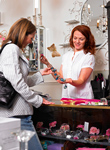 According to headlines, 2017 was the year of the "Retail Apocalypse." However, many indie retailers thrived in this so-called shakeout of a year. In many ways, our industry is stronger than ever. Increasing competition, higher consumer demands and more accessible technology are pushing retailers of all sizes out of complacency. Meanwhile, these changes provide plenty of opportunity for startups and independent businesses to succeed.
Demise of the Superstore
This year we saw national retailers such as Target®, Walmart®, and Nordstrom® all experiment with smaller format stores. The superstore was once seen as the downfall of the mom and pop retailer. But now we're seeing the winds blow in the other direction. Shoppers want personalized, convenient, and curated merchandise when shopping in-store: the kind of experience you can't find in a superstore. As chain stores are mimicking the format of independent retailers, smart indie store owners will play to their strengths for a profitable 2018.
Rethinking Retail Jobs
Retail as a career field is shifting in several ways. It is no secret brick and mortar stores have suffered from chronic understaffing for years now. The job market is very competitive for businesses. Currently, retailers struggle to find candidates who are both qualified and interested in retail work. Part-time hours, minimum wages, and unpredictable schedules were the norm for retail workers for years. Our industry as a whole is slowly starting to view store associates as the valuable assets they are. In 2018, we will see more retailers strive to become employers of choice through improving benefits and company culture.
Are Pop-ups Done… Popping-up?
Popups were in vogue this year, including at Independent Retailer. It was the topic of many of our how-to and marketing articles. It might not be long before consumers and retailers alike experience pop-up fatigue, and the events lose a bit of their luster. But, the truth is pop-ups are a valuable marketing strategy for building hype, testing new products, and feeling out new locations. Pop-up events and trendy markets will continue well into 2018.
Retailtainment Reckoning
The in-store experience is more important now than ever. When there is an option to buy online, brick and mortar retailers have to make the trip to their store extra special. This year, we saw many retailers experiment with retailtainment. Instagram-conscious shoppers and Audrey Hepburn fans can now actually enjoy a picture-perfect breakfast at Tiffany's. Nordstrom® shoppers can visit a product-free store, full of manicures, beverages, and personal stylists. While Nordstrom Local® is an example of extreme experimentation, in 2018, retailers will settle into their niches and offer experiential add-ons that make sense for their brand and drive loyalty.
Persevering Through Politics
This time last year, our nation was inaugurating a new controversial president. Many businesses were happy to have a businessman in the office, while others were feeling less than sure about what the election would mean for retail. An increasing number of retailers are taking political stances on both sides of the aisle on issues ranging from LGBTQ rights, the #GrabYourWallet campaign, and environmental issues. As politics becomes increasingly polarized, and consumers look to shop with companies who share their values, more and more retailers will take public positions on matters that are important to them.
Back to Basics Tech
AI and AR tech dazzled companies and consumers alike this year. But, indie retailers need to focus on more modest tech upgrades that will give them the biggest return on their investment. For example, in-store data tracking and a mobile-first web design are practical upgrades that create a better experience for your shoppers and give retailers more usable data.
As we enter an era of post-apocalyptic retail in 2018, shoppers will continue to expect seamless experiences and engaging in-store visits. As our economy continues to grow and stabilize, retailers will be able to innovate and level up with fewer distractions. And we look forward to seeing you flourish.