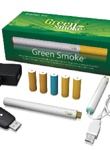 The electronic cigarette (e-cig) has quickly become a hot product and a booming industry. Marketed primarily as an alternative to traditional smoking, and not as a therapeutic nicotine cessation device such as the nicotine patch, e-cigs appeal to smokers looking for real cigarette sensations, without the harm of toxins such as tar, tobacco, carcinogens and carbon monoxide. And while many distributors are new to the profit train, Miami based e-cig distributor, Green Smoke, is a self-proclaimed pioneer in the now flourishing industry. "We have been manufacturing and selling electronic cigarettes since 2008," says Isaac Soibelman, vice president of sales for Green Smoke. "As a leading electronic cigarette brand, Green Smoke was one of the first companies to pioneer the two piece e-cig design that today is the industry standard." The distributor is in 30 countries worldwide, and prides itself on delivering high quality products and the most authentic e-cig smoking experience.
Product Program for Independent Gift, Convenience and Tobacco Stores
While Green Smoke will be finding its way into major drug and retail stores in 2012, the company's loyal customer base is made up of independent retailers such as gift stores, convenience stores and tobacco shops, as well as kiosks that have been buying and reselling the brand for the past few years. The company is offering two product programs; one for mass market retailers, and the other a Premium line that offers a full selection of e-cig starter kits, cartomizers in six flavors, and accessories, including travel chargers, cases and USB cigarettes. The lucrative market for e-cigs allows a healthy profit margin for any retailer, especially with low priced starter kits from $21.99 to $99.99 wholesale, $9.99 disposables, and replacement cartomizer packs for $9.99 to $16.99, offered through Green Smoke's programs.
Green Smoke also offers attractive POP displays in both open and pilfer proof formats, as well as attractive in-store signage such as posters, wobblers and door signs. "Green Smoke is acclaimed for its customer service, and ships all orders within 24 hours," notes Soibelman. "The company has a special program to support new kiosks and Green Smoke exclusive stores. Each dedicated retail location is eligible to earn up to 10 percent of free goods in their first six months of operation." Commenting on a new sales year, Soibelman adds, Green Smoke will continue to improve its e-cig technology in 2012, including longer shelf life for cartomizers, quick chargers, and increased smoke volume.
For more information:
Green Smoke, Inc.
20533 Biscayne Blvd., Ste 784
Miami, FL 33180
Tel.: 305-851-5795
Toll Free: 888-224-1345
Website: www.greensmoke.com