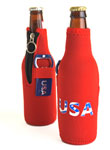 R2B Inc. has developed a new kind of bottle opener, called the Hat Trick, designed to keep the device comfortably close. "I created a bottle opener that attaches to the strap on the back of a baseball hat," explains Rick Beard, owner. "The opener has a magnet so, when you pop the bottle, the cap doesn't fall to the ground and people think twice about littering. It's curved to fit the head and is lightweight, it also has a can tab opener so ladies don't break their finger nails." Hat Trick is available with sayings such as, "USA," "Big Buck Country" and "Cheers," and offers branding opportunities as well.
Soon after introducing the original Hat Trick, Beard expanded his product line with the Hat Trick Cooly Cup Combo for cans, and the Hat Trick Bottle Cooly Combo. Made of neoprene to keep beverages chilled, the coolies are available in a variety of colors and sayings. For added versatility, the opener can be removed from the Cooly and attached to the back of a baseball cap. A Cooly Combo wholesales for $2 and retails for $4. R2B Inc. also produces the Hat Trick EyeOpener, a 16-inch neoprene strap that attaches the opener to a pair of sunglasses, and sells embroidered hats with the opener included.
For golf enthusiasts, the company has adapted its original line to integrate a golf theme and ball marker, and recently introduced its newest product, the 6 in 1 Divot Tool. "Golfers use it to fix the divot on the green, and it also has a ball marker, club rest, cigar holder, bottle opener with magnet and a can tab opener," Beard explains. Licensed with 150 colleges, "the product has really taken off." The standard logo divot tool wholesales for $5 and retails for $10, compared to a simple divot tool, which sells in a golf shop for around $15, Beard notes.
Products popular with consumers
There are many markets where the Hat Trick line of openers would be popular, he points out. "I've customized the Hat Trick for companies such as Anheuser-Busch, Dr. Pepper/7-Up and Seimens Corporation, as well as for smaller retailers. My products are great impulse buys."
R2B Inc. offers a 12-unit case pack, in clip strip or counter display, with four different logos and colors so retailers can attract a broad range of consumers. The clip strip comes with a suction cup for another merchandising option. The minimum order is one case of 12 units, and shipping is free with an order of $150 or more. In addition, the company is offering a 10 percent discount on orders placed throughout the month of June. Retailers can mix and match products.
"Customer service is very important to me," Beard continues. "I always call my customers once they receive the products to see if they have any questions, and to make sure they are satisfied. Once buyers sell these products, they always reorder." In addition to his current line up, Beard is working on obtaining more sports licenses, as well as on developing new concepts and products.
Where to buy:
R2B Inc.
Portland, ME 04103
Toll Free: 877-797-0019
Tel.: 207-797-0019
Visit: www.hattrickopeners.com