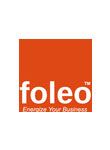 Foleo is a technology company that aims to empower businesses with cloud-based Digital Signage, Targeted Advertising and Business Applications, which include Point-of-Sales (POS) solutions. "Small and medium sized enterprises face multiple constraints, yet need leading-edge, affordable solutions to compete with large enterprises," explains Nathan R., co-founder and CEO. "Our 360-degree approach is built from open source standards that are widely accepted as best practices, and enables small and medium sized firms to take control of their growth."
Foleo starts with digital signage to entice customers to visit retailers' stores. "We make it easy and accessible because we use a cloud based approach. We then offer targeted advertising campaigns to ensure the customer feels valued. Importantly, retailers must complete the sale, or the first two components are useless," Nathan R. stresses. That's why Foleo designed a POS solution that not only enables the retailer to accept payments and do everything necessary at the front end, but also delivers a back-end business applications suite that includes vendor, order, customer and employee management.
"Because our solution is cloud based, a store owner can be anywhere in the world and still be in constant connection with his business. He can generate and monitor all kinds of reports, and he can make decisions based on that." Wholesalers don't need the POS part, he acknowledges, but the back-end functions to manage vendors, customers, royalties, taxes and more are essential to their success.
Tiered pricing lowers barrier to entry
Foleo's system is lucrative for small businesses because it is extremely affordable, he continues. "Small businesses don't need to hesitate because the barrier to entry is low." Pricing is tiered and the basic plan is $49 a month. It includes 24/7 customer support, and allows retailers to scale their businesses from one to two, three, four or more stores. "We provide all the tools required to manage a business. There is no need to ever change the software, as our system is easily scalable. Other providers install new software as a retailer grows, creating problems such as transferring data."
In addition to selling its products to SMEs, Foleo is seeking to partner with multiple chambers of commerce. "I know those folks have similar ambitions to help small businesses succeed, and I'm setting up a plan to assist businesses in distress. I'm going to help them, even if it means in the short term I'm not going to make money doing so. For me, it's about the long term investment. These are the things anybody should be doing because the economy needs motivated thinkers who look at the long term."
Where to buy:
Foleo Inc.
2354 Walsh Ave.
Santa Clara, CA 95051
Toll Free: 855-GO-FOLEO
Visit:
www.foleoinc.com