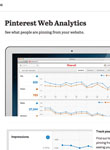 By Andreea Ayers
Pinterest, one of the fastest expanding user bases on the web, now offers Business Accounts to help you maximize your time on this most social of social networks. Put simply, Pinterest is the world's largest bulletin board. Users create boards, or collections of images, to showcase their interests. Each image, or pin, in addition to having a caption, has an embedded link that takes the user to the page where the image originated so he or she can learn more. Pinterest offers businesses the opportunity to share images and link with their fans, interact with followers and potential customers, and keep up with their fans' interests by browsing their pinboards.
Pinterest has a special tutorial site just for business users that will walk you through setting up your account. Before you start, you'll want to have a few things ready:
Profile photo: Choose an image that's crisp, easy to read and reflects your brand. Your logo or an image of your most popular product is best. Make sure it can be identified when it is very small, as your profile picture will appear on your pins and on comments you post.
Profile description: Offer users a view of your company and the pinner (that's you). Pinterest users love knowing who they are following, so be ready to share a bit of yourself.
Ideas for your first few boards: You'll obviously want to share your products, but, as with any social network, you have to balance message with content. Create three initial boards to complement your product board, and find other topics in your niche. If, for example, you sell women's accessories, create a board of fun evening outfits.
Pinterest + video = traffic to your website
It's been a year since Pinterest integrated the Vimeo video sharing platform, but many business owners are still unaware of the amazing opportunity it offers. Share your favorite videos and make your own to win new followers, repins and, ultimately, more traffic to your website. Here are a few rules of thumb:
• Keep videos short and sweet, and offer quick nuggets of knowledge. Strive to keep your message under two minutes and don't forget to layer your website address over your video.
• Share videos across your boards. Don't pin all of your videos to one board called videos. Instead be sure to include at least one video within the theme of each board to make the most of searches.
• Use your top key words in your pin descriptions and profile. First and foremost, however, strive to make your content readable.
A Pinterest Business Account can help you maximize your social media marketing efforts. Pinterest offers a unique way for you to connect with existing, as well as potential, customers who are looking for a brand just like yours.
Andreea Ayers is the author of Pinterest Advantage, an online training program that teaches entrepreneurs how to grow their businesses using Pinterest. She is the former founder of Tees for Change, a line of eco-friendly inspirational tee shirts. Ayers can also be found blogging about getting buzz for your brand at www.LaunchGrowJoy.com