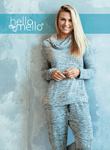 Hello Mello is a line of super soft loungewear with pieces suited for every season.  "Whether you're watching Netflix, or hanging out, Hello Mello is perfect for everyday life," says John Mauck of DM Merchandising. Hello Mello is one of the newest product lines offered by DM.
"Hello Mello launched in July 2017, and really took off," continues John. "We started with six styles last year and just launched six new styles in shorts, pants, and matching tops. The line is selling very well. "Athleisure has been a strong category for DM Merchandising and retailers nationwide for the past few years. "Our customers also wanted a product that was more relaxation based," says John. Thus, Hello Mello was born.
"The line retails very well because of the quality and type of material," explains John. "It's a super soft, one-of-a-kind material." The fabric stretches, moves, and breathes with the body in relaxed fit sizes.
The custom colorful designs also help make this product a top-seller. "Our designs are on-trend and we're constantly updating," says John. Hello Mello comes in all different kinds of unique prints.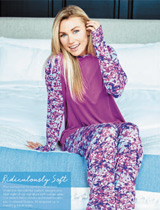 As every retailer knows, product presentation is more important now than ever. Hello Mello is certainly Instagram-friendly. Each product comes wrapped up in a matching travel tote, which is fun for shoppers and also helps keep displays organized. DM Merchandising offers an all-white boutique drawer display with diamond knobs that projects the products well, says John. The colorful prints pop against the all-white display. Each display also comes with demo hangers so retailers can show off the different styles and patterns.
The loungewear market topped $29 billion in 2016 and is projected to reach $37.7 billion by 2021, meaning this is one trend almost every retailer can, and should, jump into. John says gift stores, online retailers, resort shops, hotels, and souvenir retailers do especially well with this line. Hello Mello loungewear appeals to travelers and vacationers looking to get comfortable, shoppers relaxing at home, and to shoppers looking for the perfect gift. To learn more about Hello Mello and other product lines from DM Merchandising visit www.247dm.com.