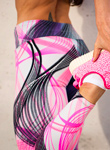 What was once seen as a passing trend is now the new norm. Just under ten years ago, the idea of wearing leggings as everyday pants was fairly controversial. Now, it's everywhere. Athleisure has grown into a $270 billion market and is predicted to grow 23% in the next 10 years. Online searches for the term "athleisure" have increased more than 250% since 2015.
Officially, athleisure was added to the dictionary in 2016, and means "casual clothing designed to be worn both for exercising and for general use." But, athleisure is part of a larger cultural shift that extends far beyond leggings-as-pants. Today, 73% of consumers prioritize health and fitness, signaling an overall shift in the way people are dressing, eating, living, and their overall priorities. The clothes are just an outward projection of this priority shift. Plus, they're simply more comfortable.
The Tracksuit
As with many of the other articles of clothing that make up our casual wardrobes such as sneakers and polo shirts, the tracksuit also unsurprisingly was born in the world of sports. In 1968 the suit was created for American sprinters. By the 1970s, it was a pop culture icon and a perfect counterpart to the jogging movement. Right as the tracksuit was fading away, Run DMC repurposed the look as street style. This style move was arguably the first indicator that athletic wear as street wear was here to stay.
Athleisure Beginnings
During the 1980s – 1990s, workplace wellness programs, commercialized gyms and fitness centers, spa industries, and the rise of self-help experts all took off, bringing the concepts of holistic healthy mind and body lifestyles further mainstream.
In the early 2000s, tracksuits were all the rage again, this time in brightly colored matching velour. Lululemon opened its first doors at the turn of the millennium. The New York Times first used the term "athleisure" as a means of describing "low performance" sneakers.
Leggings (Watch Out, Denim)
In October 2016, Women's Wear Daily reported that leggings sales officially outpaced denim sales online in the U.S.. Legging sales increased by 41% whereas denim sales increased by just 3% in the same time frame. Leggings have officially overthrown jeans as the casual pant of choice. Obviously, they are more comfortable. They are also more affordable. Generally, when a product becomes more popular it also becomes more expensive. With leggings, the opposite is true. According to Glamour, in 2014 the average pair retailed for $50.10, and in 2016 the average price was $25.40. Now the average price has dropped to $20.70
High Fashion Goes Casual
High fashion is even embracing athleisure and taking a turn towards casual. Kanye West's Yeezy® brand is a frontrunner for the casual cool lifestyle concept. Having family members Kim Kardashian, Kendall Jenner, and the rest of the Kardashian/Jenner clan act as unofficial brand models only adds to the "it" factor. Chanel®, Dior®, and Louis Vuitton® also offer couture sneakers. Fendi®, Chloe®, and Hermes® all have skiing and crossfit collections.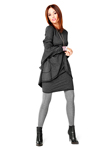 Influencers, "Fitfluencers"
Many other national brands are switching their marketing around the athleisure movement. Victoria's Secret® has placed much more emphasis on their leggings, workout, and loungewear over the past few years, at one point even getting rid of their swimsuits altogether to make room for the expanding athleisure category. The brand used their famous Angel models as athleisure influencers, showcasing behind the scenes glimpses of their workouts and off-duty looks.
But, the athleisure movement spreads far beyond just clothes. Food, beauty, and fitness industries have all become a part of the larger lifestyle movement, capitalizing on the "it" factor of athleisure. Specialty fitness classes such as spin, barre, and boxing are on the rise. Social media personalities document their gym routines, healthy habits, and glamorous aesthetics. Athleisure is no longer a trend, but a health and wellness lifestyle to emulate.
Workleisure
What's the next phase of the athleisure movement? "Workleisure." The phrase has gained momentum over the past six months, as the principles of athleisure spread throughout all aspects of life. If consumers are trading in their denim and weekend wear for more comfortable and practical athletic-inspired clothing, it was inevitable the concept would leak into the workplace.
For many, this culmination has been a long time coming. First, it was the balance ball or exercise ball replacing the traditional desk chair. Then, standing desks, treadmill desks, and elliptical pedals were the next phase of people trying to incorporate a healthy lifestyle into a sedentary desk job.
Today, many people also have apps that remind them to get up and walk around, stretch, drink water, or meditate. Stylish looking glasses that block out blue lights from computer screens are also increasingly popular. Office environments and technologies are shifting to prioritize health and wellness; it was only a matter of time before apparel caught up. Now, companies are switching up their workwear lines to incorporate "office-appropriate" leggings, stretchy materials, and comfortable footwear.
The rise of athleisure and evolution of American culture paves the way for new independent businesses across fashion, fitness, lifestyle, tech, and beauty that are ready to make their mark. Take a hard look at your business and your core demographic and determine what aspects of the health and wellness athleisure movements you should incorporate into your store.