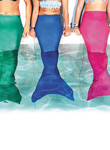 This summer´s must have, on-trend product: Mermaid Princess tails. Mermaid tails, which have been an online sensation for years around the world, are finally available in U.S. retail stores. After selling out at beach and pool shops in Europe the last two summers, Cool Smart Products, LLC (CSP) has launched Mermaid Princess tails at this years ASD show in Las Vegas. After years of mermaid movies, TV shows, mini series, books, comics, games, backpacks, T-shirts, etc., the craze continues to grow with each new group of school-age girls. Bringing a winning product to an unserved market segment was, according to CSP's CEO, Luis Lajous, "a no brainer " and is "sure to be a hit in North America as well".
How does Mermaid Princess make girls look like and swim like real mermaids? The product consists of a pink, green or blue mermaid tail made with shiny 4-way stretch fabric that glistens in the light plus a proprietary monofin that allows the user to glide through the water. "Girls love wearing them, swimming in them and especially taking selfies in them," says Luis. "Mermaid Tails are so popular that adult women enjoy wearing them, and there are even schools that teach women how to swim with the tails." Given the highly stretchable fabric, with two sizes available, Mermaid Princess Tails fit girls and women from 3'- 4" up to 5' – 7".
"Mermaids are always popular with girls, and you don't want to be the one who doesn't have them on your shelf," continues Luis. With the summer quickly approaching, the time is now to stock up on the hottest swim product of the season. At only $39.95 MSRP with keystone pricing for retailers, it is several times cheaper than online versions, which makes for easy impulse sales. The company will be launching new colors and patterns every year to keep your customers coming back and to buy more.

The developers of the Mermaid Princess had seen similar products in the market and loved the concept, but found the incumbent products to be too expensive, usually costing over $100. This meant that it wasn't an impulse item, and it had to be ordered online and received days later. Now, Mermaid Tails are available in shops at a price everyone can afford. In the development process CSP actually improved the product by changing the heel strap to an innovative shape that has loops for the feet to go through before they are inserted into the monofin. This ensures that the strap doesn't slip off when swimming quickly, which means that the user always maintains full power while swimming in it. More info at www.MermaidPrincessTails.com