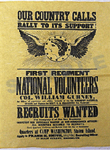 People interested in the culture and events of the past, frequently visit battle sites, interactive exhibits and museum IMAX movies. However, with the help of the Historical Document Company, history can come to life at home as well. The company offers authentic historical document replicas, and aims to preserve America's history and help educate people about our rich heritage through parchment paper replicas. For a wholesale price of $0.75 per single page document, independent retailers can sell each replica for a 200 percent markup, from $1.99 to $4.99, providing customers with the opportunity to take a piece of history home without the high admittance fee. While the Declaration of Independence and the Constitution of the United States are the Historical Document Company's top selling parchment paper documents, its numerous titles in the Civil War category have increased in popularity as well. According to Matt Buber, CEO, "As 2011 marks the 150th anniversary of the well-known War between the northern and southern states, these documents are receiving lots of attention."
Civil War Document Replicas in Remembrance of Great Battle
In the Civil War category, documents related to Abraham Lincoln, including replicas of the Gettysburg Address and the Emancipation Proclamation, are some of the best sellers. The Historical Document Company also dabbles in document types such as portraits, speeches, maps, and Confederate State currency. While 99 percent of the business is focused on parchment paper replicas, the company also offers product lines such as a 48 page comic book depicting Civil War battles, First Bull Run, Shiloh, Antietam, Gettysburg and more, as well as replicas of the Liberty Bell, quill pens and coins. The company's targeted customers are gift shops which are most commonly associated with hotels, museums and historical sites.
The other 10 percent of the Historical Document Company's business is custom work. Buber mentions, "We work with a lot of teachers, as well as marketing firms using our documents for a new competitive look." While the minimum order for catalogue products is at least 36 of one item, and for poster size documents (23" x 29") at least 12 of one item, buyers looking for custom work must order at least 1,000 in quantity. Turnaround time, however, is a speedy three to four weeks. Pricing varies on quantity and packaging type, as orders are provided with a choice of flat, folded in an envelope, rolled and tied with a ribbon, rolled in a clear poly sleeve, or rolled in a hard plastic tube.
Promoting American history is the Historical Document Company's forte, with its roots beginning in 1926, when a Philadelphia druggist named Charles Promislo accidentally spilled a beaker of chemicals on his laboratory table and left a mess to clean up in the morning. The papers had reacted in a strange way, for each sheet was aged, wrinkled and old. Mr. Promislo, a history buff, was intrigued by his discovery and founded Historical Documents Company. He devoted several years to perfecting his unique 11 step process. The documents were first made available at the World's Fair of 1939, held in New York City. Today, this family owned operation is proud of its Made in America stamp, and products.
For more information:
Historical Documents Company
2555 Orthodox Street
Philadelphia, PA 19137
Toll Free: 888-7000-7265
Website: www.historicaldocumentsco.com