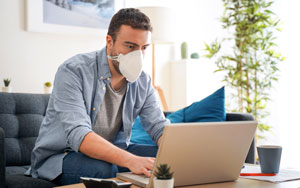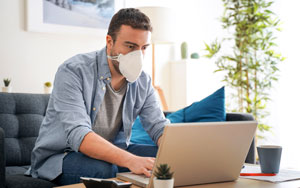 by Daniela McVicker
There's no doubt that the global response to COVID-19 has changed the way consumers shop. Brick and mortar stores that are deemed 'non-essential' have largely closed down. People are avoiding going out in public. Even stores that have remained open are limiting hours, and taking other steps to prevent too much in-store traffic.
One side effect of this is that consumers are being encouraged to use online shopping as an alternative. This is good news for e-tailers, but there are still steps to take that are necessary to stay in the game. Right now, the public needs online alternatives so they can safely buy the products they need. Here are some steps indie retailers can take to thrive during the current quarantine:
Improve Online Experience
While it's objectively good for ecommerce that more consumers are shopping online, there are also two emerging challenges. The first is that many customers are shopping online for the first time. To get them to continue to shop from your website, you'll need to create an experience that's as frictionless as possible. You can make their shopping easier by:
Adding online chat support.
Shortening forms.
Automating the checkout process.
Providing autofill options.
The second concern is that customers aren't able to experience products the way they can in a brick-and-mortar store. Retailers can utilize technology to make up for that. Take 360-degree photos of products so shoppers can see them from different angles. You can also add videos to demonstrate your products. Some ecommerce businesses are even using AR and VR technology to create a better product experience.
Verify The Strength of Your Online Infrastructure
Many online retailers are experiencing a surge in traffic and sales. That's wonderful, as long as your servers can handle the stress, and you can ensure that your products will be delivered as promised. This is a good time to communicate with your IT staff or your marketplace platform provider if you`re using one. Also, discuss the situation with delivery drivers or other contracts to ensure that all processes will continue to work as designed under heavier volume.
Work Closely With Suppliers
The COVID-19 outbreak has led to several product shortages. Hospitals are struggling to obtain PPE and other equipment. Stores are often short on toilet paper, hand sanitizer, and cleaning supplies.
That's not all. The increased number of people staying home has led to them pursuing new hobbies. For example, bread baking has led to a shortage of yeast and flour. If you sell products that are necessities or may otherwise be in high demand, work closely with your suppliers so that you are sure that product availability won't be an issue.
Seek Feedback From Customers
Now is the time for ecommerce companies to really step up when it comes to customer experience, service, and product quality. But how do you know you're succeeding? For most e-tailers, this is a somewhat new territory. There are new customers now and fluctuating demands.
This is the perfect time to look to your customers for feedback. Here are some things you can do to find out what your customers are thinking:
Publish surveys and polls on your social media sites.
Read customer reviews posted online.
Reach out to customers for their thoughts via email.
Review customer support tickets.
Pay attention to social media engagement.
Track online mentions of your business.
Communicate Clearly About COVID-19
New fears and concerns have arisen in these past few weeks. Consumers are rightly concerned about how the products they purchase have been handled, and who has been handling them. You may be able to allay some of these fears by publishing a statement that outlines the steps you are taking to keep things safe and sanitary. Here's an example:
"In recent weeks, several customers have contacted us with concerns about safety and sanitation procedures. Rest assured that we have taken steps to keep our products safe for you. These steps include:
Requiring workers to stay home if they are exhibiting any signs of illness.
Wiping down and sanitizing workstations frequently.
Sanitizing products and product packaging.
Offering customers the option of no-touch delivery.
Requiring workers to wear gloves and masks.
Finally, we are paying close attention to recommendations from the state, local, and federal governments as well as reputable health organizations. We will make changes to our procedures in order to match their advice. Feel free to contact us with any questions or concerns you have."
Take Advantage of Agility
Brick-and-mortar stores must obtain their stock before they can sell it. This limits their ability to respond to the fluctuating demands and customer behaviors that this crisis has created. As an e-tailer, you have the ability to be much more agile. For example, you can promote in-demand items more heavily. You can also test market products in small amounts if you think there may be demand for them, before committing to large orders from your suppliers.
This is undoubtedly a time of opportunity for ecommerce brands to shine. Shoppers are turning to online stores more than ever in an effort to comply with social distancing guidelines. However, you shouldn't assume this business is yours to claim. Your competitors will be working hard to offer great customer experiences, and to ensure that they are able to meet increasing demands. Follow the steps above to respond to customer needs, and you will be able to thrive during this challenging time.
Daniela McVicker is a passionate digital marketer. Daniela is interested in everything related to SEO and blogging. She contributes to Topwritersreview where she shares her experience and helps marketers make their names in the online world.