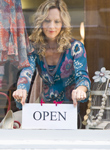 By Catherine Perry

Pop-ups are known to be excellent catalysts for boosting business and bumping sales, especially during a lull. When struggling, businesses look for an answer to excite their customers and elevate sales. A pop-up can be an excellent way to do this, if it is backed by proper planning. There are many things that can go well with a pop-up, but there are also many things that can go wrong. To avoid a pop-up failure, a business owner has to ensure that they have executed the pop-up strategy to this best of their ability. A pop-up failure can be due to lack of advertising, selling "leftovers," and an unorganized environment. Avoiding these mistakes can make your pop-up, instead of breaking it.
Advertising
A pop-up can fail when there is not enough advertising surrounding it. If a business owner is unsure how to effectively advertise the sale, they can never go wrong networking through social media. In this day and age almost anyone and everyone who you would want to reach is available through various social media platforms. Advertising this way reaches your loyal customers, as well as reaching others, who find your advertisement appealing. Advertising through social media not only gives your business a good reputation but also attracts new shoppers. More advertising tactics may involve posting flyers in the area that your pop-up will be, as well as around your own store as a constant reminder of the upcoming sale. Choose a popular area to host your pop-up. Advertising is especially imperative when the pop-up location is remote from the location of your store. In foreign territory, you'll need to advertise all the more seeking purchases from newcomers and current customers that have ventured to see your pop-up.
"Leftovers"
Another way a pop-up can fail is if you use it to get rid of items that are not in high demand. Of course you may have a few sales, but pop-ups should be for promoting your business instead of getting rid of leftover inventory. Don't use a pop-up as a way to get rid of things you can't sell. Instead use it as a way to spread the word about your business and display your most popular items. Display new items that aren't yet available in your store. This way it will draw in current customers searching for new items as well as make new customers attending the pop-up feel valuable. Pop-ups have to appeal to the impulsive buyer.
Organization
If a shopper is simply passing by, they should be drawn in by something on display. On this note, another "don't" for pop-up shops is unorganization. Be organized and have aesthetically appealing displays to draw in passing people. An aesthetically pleasing setup will draw in passerby and help elevate your store's reputation.
These few pop-up tips should guide you in how your pop-up can succeed. When you run a successful pop-up, your business has potential to boom, both at the sale and in-store. Knowing what can go wrong with a pop-up can significantly help the sale go right. Popups are effective during the holiday season and year round as well. An unexpected pop-up is a fun way to keep customers interested and coming back to see what you have in store.