By Paige Sanders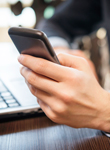 Are you a social media manager at your company? Do you run a small business, and you're looking for new ways to reach diverse audiences? Are you a representative of an organization and you need to get your message out in a big way? If you answered "yes" to any of these questions, then it may be time for you to set a Twitter strategy that combines organic and paid advertising. Twitter is one of the most popular social media platforms for reaching a diverse audience throughout the world, and recently, Twitter introduced paid advertising into the mix of promotion it offers its users. What's great about Twitter's paid advertising offerings is that you can target your audience based upon your business needs and the location and demographics of your clientele. Are you ready to get started with a new Twitter strategy? Follow our guide of the top four quick tips for combining organic and paid strategies on Twitter, and experiment with how those strategies work for you. The best part about experimenting with social media advertising is that it is an experiment that you can tweak over time.
1. A Completely Organic Twitter
One thing you have to remember as a social media manager and strategist is that organic tweeting will only take you so far. Twitter, Facebook and other social media platforms are now veiling audiences and creating a system in which to get the most reach, you have to pay for it. Now, that doesn't mean that you won't get any reach – or even poor reach – from organic tweeting. It simply means that there is a lot of mystery surrounding how much and what kind of quality reach you are getting with organic tweeting alone. That's why experimenting is so important and diversifying is key. Save your money at first for paying for tweets that are the most important to your overall business or campaign goals. Until you have experimented with paid adverting on Twitter, you want to conserve your money to make sure you are maximizing your budget and putting your money toward the most important messages. 
2. Experiment with Promoted Tweets
Twitter allows users to pay for targeted, promoted tweets. This means that your curated tweets will appear in the timelines of the audiences you are targeting at a specific time that you bid upon. You can reach wide-ranging audiences by putting a little money behind your promoted tweets. It's something to experiment with as you organically tweet. You can test your tweets to see how many people are reached – which you will be able to see via Twitter metrics – and how many people favorite and retweet your promoted tweet. Try this over a period of the calendar and at different times to try to best determine when your targeted audience is paying attention the most. This can vary depending on the demographic of your Twitter audience. 
3. Follow Twitter's Easy Steps to Creating a Promoted Tweet, Ad or Campaign
Twitter makes it easy to set up a promoted tweet, ad or campaign. To do this, simply go to the Twitter ads platform. Set the parameters of your budget, the date/times you want to promote the tweet, the objective of your promoted tweet (video views, new followers, link clicks, etc.) In Twitter language, setting up a promoted account to attract new followers is called a "Twitter ad." You also can set up a promoted tweet for a targeted message to your audience or create a tweet that promotes a person to click-through on the shortened link in your tweet or to view a video. You bid on your tweets and ads via Twitter, so it works on a competitive system. Twitter makes it clear, however, that the most a client will pay for a promoted tweet or ad is merely one cent above the highest bidder. Once accepted, your tweet or ad begins running and your targeted audience will see those items until your overall set budget hits zero. 
4. Analyze Your Metrics
To get the best sense of how your organic vs. paid tweets are doing on the platform, you'll need to analyze your metrics. Set up a database with several columns showing the date of your organic and paid tweets. You'll also need the time of day you are sending out the tweets and their content. To test how they are doing against each other, try sending an organic and a promoted tweet with the exact same copy at the exact same time several days apart. Do this a dozen or so times on different days to get a sense of how the organic and promoted tweets are doing against one another. Over time, you'll be able to determine better when your audience is online, who your audience is, how they are engaging and the kinds of copy that gets them engaged. These aren't all hard-and-fast conclusions, but you will be able to get some sense of how your audience is responding between the two kinds of tweets. Don't throw all of your money at paid ads at first. Start slowly and build up if you see the promoted tweets and ads making a difference to your overall goals.